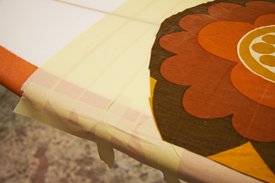 The Vanity Project is really taking shape, but there's more mental gymnastics required than Clare Howdle had counted on…
I always new surfing was about quick thinking. There's no time to dally when you're hunting for your wave of the day. A second's pause could make the difference between total stoke and total slam. But shaping? Well that's more considered, right? Carefully and tenderly crafting something beautiful, purely through skilful hands and measured movements.  Not exactly.
Of course, it's all about know-how. Talent, knowledge and experience are required by the bucket load when it comes to top notch boardmaking but so, it seems, is a rather speedier cog whirring ratio than I'd ever bargained for. That is, if the Vanity Project is anything to go by.
Mikey is up to stage three on my bespoke board and the atmosphere in the Seed workshop feels decidedly different. Less excited about the possibilities and more focused on getting it exactly right.
His eyes are moving left and right and I can practically hear the brain cells fizzing.  "Our spur of the moment decision has come back to bite us," he mutters, looking at the fabric as he gets out his scissors, curves, string, pencils. He's calculating how to make this work; to make the best looking board he can out of a raggedy square of '60s style print. "There's the logistics of the pattern to consider, lining it up with the colours on the underside, making sure it's perfect."
It's not just my board being difficult. Fabric inlays require some serious brain time. Choosing a fabric that won't add too much weight, making sure the material doesn't bubble under the resin, ensuring everything lines up and looks good; getting neat, sharp edges. It's a risky business, but a worthwhile one. I've seen the results. There's some tasty examples out there from the classic styles sported by Bing Lovebirds, to the quirkier stuff that Joel Tudor's Kookboxx is turning out.  So making sure the Vanity Project steps up to the mark is obviously going to take work. And all Mikey's faculties.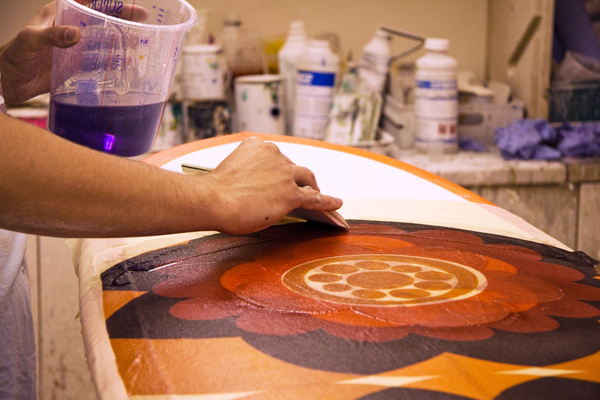 "I'm not willing to compromise," he explains as he airjets off a pencil line that doesn't have quite the right curve in it for his liking. "It's such a permanent thing at this stage and I can just tell if it's not right, by look and feel."
Of course I am happy about his perfectionist tendencies. My board is going to be all the better for it. And there's something exciting about seeing someone working in such a precise and focused manner on something that ultimately I get to walk out the shop with. I feel lucky as I watch him measure by eye; executing his plan for a better curve with a homemade compass. I'm safe in the knowledge that at the end of the day I'm going to reap the rewards. Mikey's furrowed brow is my sleeping easy.
"It's funny, because you have an idea in your mind and sometimes you have to tweak and tease that idea as you go along to make sure you get the best result," he explains as he mixes up the resin to lap over the fabric, which is skirted by masking tape as an raised indicator for him to feel where it will need cutting. "There's no point thinking about it too much though, often you'll try and find a better solution and end up coming back to plan number one in the first place. I have learnt to trust my instincts and believe in the process but there's still a bit of thinking on my feet involved too."
I leave Mikey as he starts to glass the board, all this quick thinking is making my head hurt. Although that could just be the fumes. Again.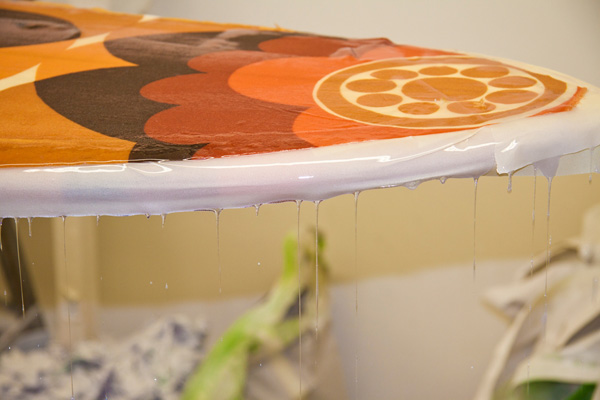 Until next time…
Read previous instalments of The Vanity Project; Part I and Part II