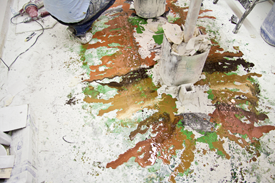 From toxic fumes to crazy curtains, Clare Howdle's mission to realise her perfect custom board continues…
"I always knew that for me, working life was going to be about making stuff." Mikey is smiling. And so am I. Looking at my board as it sits, bright, crisp and clean in the workshop I understand what he means. Making stuff is clearly in his blood.
I've come back up to Seed Surf Co. in Wadebridge to talk about phase II of the Vanity Project, but at the moment I'm too busy revelling in phase I; how Mikey has taken those early discussions we had and turned it into something bespoke, beautiful, rideable.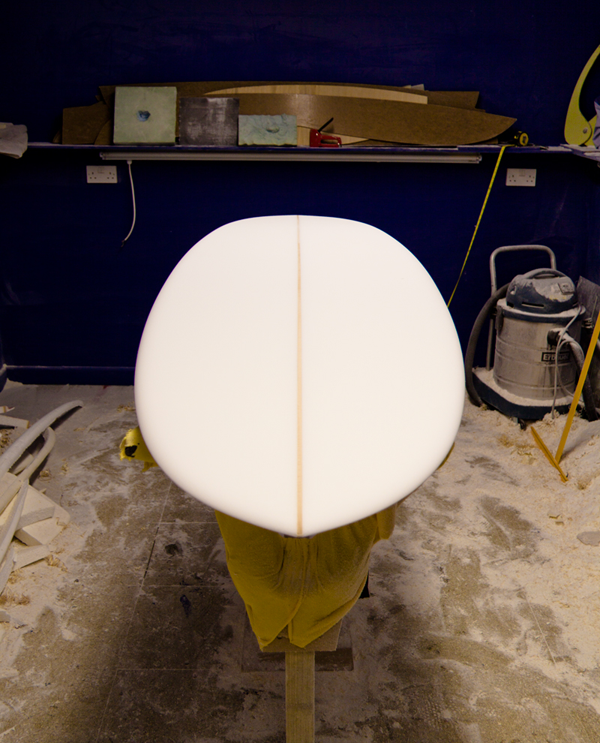 "I've brought the tail right in, rolled the rails slightly, given you a rolled entry into single concave and flat out the tail. This should help the water flow and create a nice bit of glide. It's light, but I've kept the volume so it is easy to get onto waves," he explains, "it's going to be great fun to ride – in fact I think I might have to make one for myself."
As we talk he runs his finger along the rails, peers down the stringer, lightly sands an edge. Even though shaping's over, you can sort of tell he's not done with it – that if he could he would be fine tuning for days. "I am definitely a perfectionist," he laughs as we carry the board through to the glassing room, "I think it comes from working with my Dad when I was younger – that was pretty meticulous stuff." He tells me that he spent his teenage years in Surrey masking and spraying for the likes of British Aerospace and Mclaren F1 as part of his Dad's business. That coupled with restoring old cars and making skateboards in his garage explains the eye for detail – but what about the shaping skills?
"The guys at Revolver really set me up," he explains. "I came to Newquay when I was 19 with an armful of skates to sell to shops in the town. I walked into Revolver because I liked the look of it and never left!"  Mikey  sat in and watched as Matt Bevis and the rest of the Revolver crew shaped, chatted and flaunted their wares, eventually setting up a workshop opposite Bevis where he continued to hone his craft.
But it wasn't just the skills that took shape, working and playing with Revolver influenced his visual aesthetic too – a style we begin to delve into as we choose what coat my board should be wearing. I am already a sucker for the Sixties – Mad Men is practically etched into my eyelids right now – so I know I have come to the right man. References to the halcyon days of surfing dominate every corner – from the battered old suitcases and soda syphons which decorate his shop, to the muted colours sported in his board rack and the bold patterns hanging on his walls.
It's these patterns that Mikey suggests as a starting point for my board, taking the materials used by quirky boardsock makers Odd Socks as inspiration. We talk fabric inlays, tiger stripes and burnt oranges. We dig around in a black bag of curtains, sheets and tablecloths; laying out scraps and offcuts on the floor to see if there is anything that grabs us. Mikey's brain starts ticking as he suggests a way to tie the design together; create something that really stands out. He looks excited.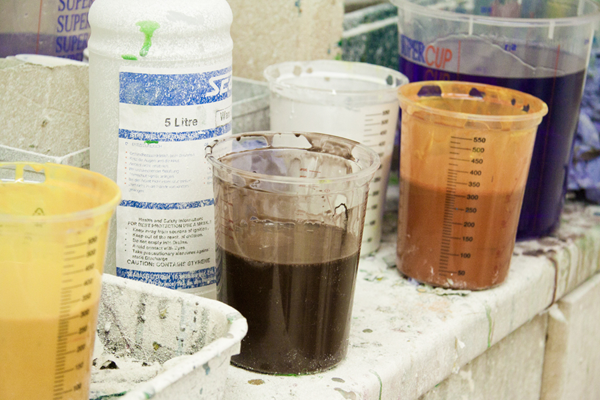 Colours chosen, Mikey sets to work, mixing pigments into purple goopy resin, colourmatching by eye, adding a spot; stirring, a spot more; stirring. "This is why people call me ridiculously anal," Mikey laughs his arm tiring from all the mixing. "I just want to get it exact, it might be your board but it's my brand out there, my handiwork; I want it to be something I'm proud of." His passion and precision is comforting at a point when the fate of my board's look and feel is about to be laid on the line.
With six different shades of yellow, brown and orange tint all prepared, he's ready to start. This is creativity against the clock, because as soon as the catalyst hits the tinted resin there's just twenty minutes to lap the board and get the design down. We put our masks on. He starts to pour.
Half an hour later and I am driving home, brain a little fuzzy from the fumes. The underside of the board is looking great and I can't wait until next week when I'll be back up to see how Mikey does the fabric inlay.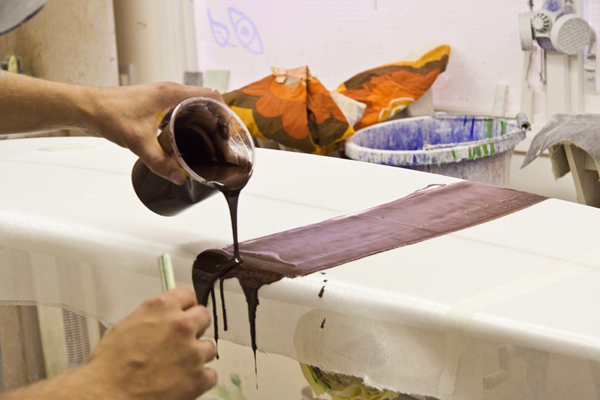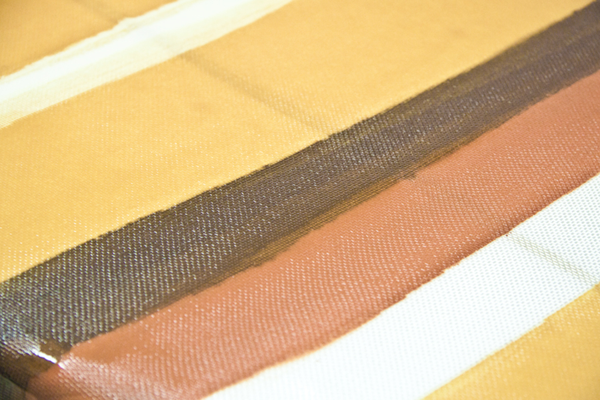 Tiny Danceris keeping me company on the Golden Oldies and I am grinning from ear to ear. It's making me giddy, this process, I am genuinely revelling in it. Although that could be the chemicals. Whatever. Smiling until your face aches is a pretty good way to start and finish the day.
Until next time…
—
Check out The Vanity Project, Part I to find out how it all began