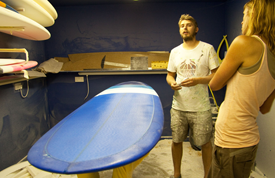 With envy getting the better of her, Clare Howdle swallows down her second-hand board sensibility and embarks on a Vanity Project; a custom-made surfboard where beauty is the name of the game. Fancy coming along for the ride?
20 September 2010, Day I.
Second-hand is fine, I've always told myself. Second-hand is easier, cheaper, less to worry about. I've always been clumsy, both on the land and in the water so knowing that the boards I own have already been through the mill and won't suffer too badly from the old 'carpark finger-slip' combination or a rock-bumping wipeout has been comforting to me.
With the surface scratches, pressure marks and discolouration of preloved boards came the reassurance that whether my board got mishandled by baggage claim flying back from Brazil or whether it flew itself, off the roof of my car going full speed on the dual carriage way (true story), I wouldn't have to lose too much sleep over it. For someone like me, pride and joy seemed misplaced when it came to recreational water-based activities.
However, despite the years of enjoyment  I've had out of my bashed up yet much loved McTavish, my fun-loving factory-made egg and my anonymous bright red beast complete with 'Jesus Loves You' written on its stringer, simply known as Crazy Tracy, something has been nagging at me. It's there in the pit of my stomach every time I walk to the water's edge, eyeing up everyone elses as they prepare to paddle out. It's there when I log on and see the treats that Sea , Revelation and Mandala have to offer. It's there when my less clumsy friend brags about his beautiful, bespoke fish with custom glass job which sits shiny and new on his study wall. Envy.
I don't need one, of course. My second-hand quiver is fit for all occasions. It has served me well. I know that. But this isn't about need. I want a board that deserves to be on a wall rather than behind a sofa. A board that makes mouths water when I stand on the shoreline with it clutched under my arm. A board that has been made for my tastes, my gangly limbs, my ability. I want my stomach to settle, to get rid of the relentless envy eating away at me.
So it's to be a vanity project then, pure and simple. It's time for me to put aside my fear of dings and damages and invest in something eye-catching, something stunning, something that's mine and mine alone.
"It's not about retro boards, it's about performance focused modern boards with a classic aesthetic. I want to take the best of the past and combine it with current knowledge." Mikey from Seed Surf Co. is talking my language. His classically-inspired industrial unit on Dunveth Business Park in Wadebridge says it all. Surrounded by kitchen fitters and scrap metal dealers, he has carved out a little slice of old school soul, from the restored camper van out front to the bleached-out photos hung on the walls inside. This place is a breath of fresh air in the high paced, fashion orientated, trend following surf industry of today. Then there's the boards. Each one a work of art, with muted colours, loose lines and flourishes a-plenty. They look beautiful.
But it's not all about style. There's substance to Seed Surf Co. too. Along with the masterful tint work which gives his boards such a stand-out look, he's got the local surf knowledge and shaping skills to make sure there's something pretty special under the glass, something designed for British waves that promises to pack a real punch.
"I've got a couple of super talented friends who are committed thruster fans, so I get them try out my shapes," Mikey explains. "They've been flying on the quad, fish and other short boards I've been making. I'm trying to take my boards to more of a performance place and it seems to be going down well."
He shows me around the workshop. There's a multi-press screen printing machine thing in one corner, a broken board in the other and a lot of paint in between. Mikey's sideline is in screenprinting, a business he bought in 2008, relocated and then gradually introduced his shaping trade into. It means he can think designs, colours, t-shirt prints, posters, shapes, tints and glass jobs all in the same space at the same time – great for getting the creative juices flowing. Upstairs in the board room I see a couple of his works-in-progress on the bench, both featuring tasty colour combinations; interesting designs. "The whole creative attitude to surfing is only just taking off over here," he continues. " There's guys like Squire, Diplock Phoenix, and Empire pushing the scene forward and it's great to be considered a part of that."
I like Mikey.  He knows his stuff and he's humble too. Easy to get along with. We chat about my vanity project, about what I am after, about what I want it to do.  We talk specs and he convinces me to go smaller, lighter; to consider challenging myself a little, pushing out of my comfort zone for an ultimately better ride.
He's right. If I've learned one thing from what Mikey does it's that looking good is only half the battle. And if I want a board that I'm proud of it should be one that I love to ride too.
I'm excited. I've never been excited about getting a board before. This is all new to me. It's not envy sitting at the pit of my stomach as I sign the order form. It's butterflies. Let the Vanity Project commence…