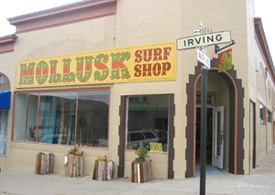 I have a 'thing' about surf shops. Most of my friends used to spend hours at the local surf shop, just talking, looking and trying to get a discount.

For some reason, I never went down that road. Back then the shops were just somewhere to buy stuff – if I don't want to buy anything, why go there? The shops in Portugal only really stocked a couple of surfboards, most of them used. If we wanted to look at boards we would go to a factory. That's where we all got our surfboards back then.
But times have changed and so have surf shops. Nowadays it's common to see a shop full of boards. The arrival of imported surfboards made the change: shops started to stock them; surfers started to go there just to look at them. Surfboards from CI, JS, Lost, and the like weren't common and carried the WCT status, so everybody wanted one and wanted to see one. Suddenly those pictures of shops filled with surfboards we used to see in surf mags didn't seem so out of this world.
A few years have gone by since then, and many surf shops are still just places full of clothes, with accessories hanging on the walls and surfboards in the corner. And my lack of interest about them remains the same also. In fact, I think it's even worse now. The aggressive commercial side of surfing doesn't say much to me, and it's been a while since I bought my any clothing from one of those big surf companies. Usually I just go the shop to buy wax or a leash or boardbag.
But not all shops deserve my indifference. Fortunately surfing is changing: we're seeing new surfboards, old designs updated, new styles and, above all, new approaches to the way we ride the wave. Some might say that the retro/alternative/classic revival style is just a hype, something that will go underground again soon, but I don't believe it. Some surfers got tired of the industry, the aggressive marketing, surfboards that don't work if you're not Slater and started to look for alternatives. Classic designs from the past have been updated, new ones have arrived, and a mix of things old and new has generated so many great surfboards – and some out-of-this-world weird ones too – that you just wish you had the time (and money) to try them all.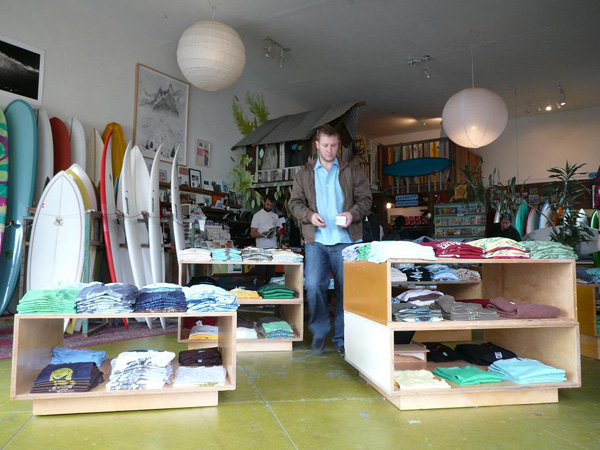 With all these developments in the surf industry, it was obvious that surf shops were going to be rethought too. The first one to capture my attention was Mollusk in San Francisco. The pictures that arrived via the internet were of a very simple shop with wooden furniture, the clothes it stocked piled up rather than hanging, walls full of paintings and colour instead of posters and accessories, a real lack of promo material and a rack of amazing boards. It was a completely different approach, all about individuality, quality and style. About NOT being like the pro-surfers we saw on some major surf mag or other.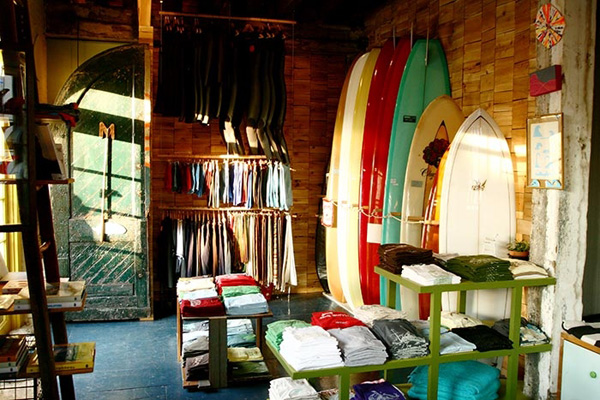 I had the opportunity to visit Mollusk NY in 2007 – it was all I expected and much more. In that really small space you can find everything you need to be a happy surfer – except for waves, of course. Some wetsuits on the left, a few t-shirts placed discretely on a table in the middle of the store, a couple of books and DVDs, cool-looking fins near the window, and what I was looking for, those two amazing surfboard racks. I spent four hours there, looking at the boards and talking about them with a friend, Nuno, and Joe Clams. I had a blast. If it wasn't for the jetlag I would have stayed there till Joe threw us out. I had never spent so much time in one shop; not even close! But those surfboards deserved it. It's not everyday that you can put your hands on a Christenson fish or glider, a Mandala stubby or a Dano log just to name a few but the one I spent more time looking at was a hull from Fineline (I think). I had never seen a real hull in person and that thing was impressive.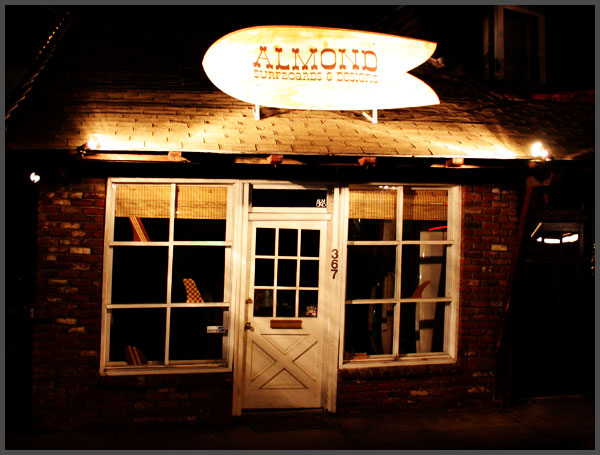 Since the arrival of Mollusk, many other shops have appeared in the same vein. One of the most recent of these to capture my attention is Almond, in Newport Beach. Those big windows that make up the shop front are an invitation for a visit that you can't refuse. Through their glass, the view of boards and fins tells you that the store is going to be somewhere you will enjoy hanging out.
Once inside, it's easy to fall in love with the simplicity and beauty of the space. The classic wood furniture and the comfortable couches aren't the sort of thing you expect to find in a shop, and somehow remind us of other spaces. The clothing, wetsuits and accessories, displayed so discretely, perfectly complement the boards that Dave has shaped.
Almond Surfboards have classic and beautiful aesthetics with really good glass jobs and tints. It's impossible not to love the lines of the Kookumber or the Pogie, but it's the longboards, like the Surf Thump or the Lumberjack, that make me smile and dream.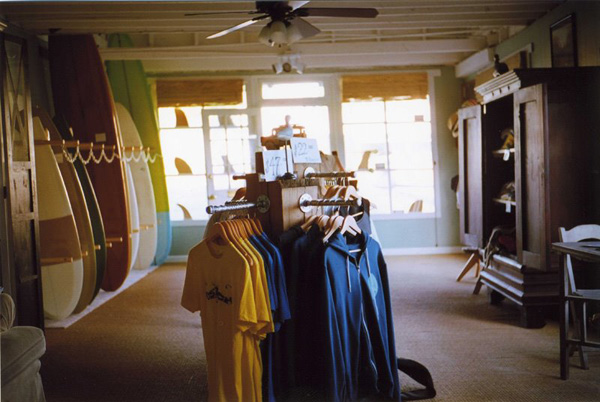 Owning a shop is one of my dreams, and places like Mollusk and Almond are the inspiration and driving force that makes me believe that you don't need to be one of the crowd, you can stay different and still catch some good ones. I believe in it, and you should too!