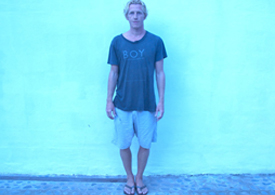 Contrary to some mis-interpretations of my recent irony-laden post on El Salvador, it was one of the surprise highlights of my recent global trip.
Surprise because of the bad rap El Salvador receives from all and sundry, a deep-rooted prejudice I played-up with all the subtlety of a pantomime dame in 'that' post in the hope that readers would see both sides of the coin.
Perhaps irony and blogging are mutually exclusive, or perhaps we're are so used to hearing El Salvador maligned that negative asssumptions were made – making an ass out of u and me.
I write this in a high-back Chesterfield chair in the heart of the astoundingly beautiful Sussex countryside as I try (and so far fail) to acclimatise to the voracious consumption-driven society of modern Britain – if you're not spending then you're asleep – and The Saviour's absence makes my heart grow even fonder.
God, I'm missing those waves, those people, those avocados and the most valuable commodity of all, that delicious, engulfing, luxuriant time. Precious time. Even though this is, in essence, just the UK leg of another trip before we head back to post-monsoon India to open the Soul & Surf House in Kerala, there is something about this society that rips the hours and minutes from your grasp.
How on earth I ever managed to hold down a job as well as jumping through all of the hoops it takes to exist here I will never know.
Oh, for the simple life – simple pleasures.
Good food.
Good company.
Good health.
Good heart.
Good waves.
Now how do I integrate that into life back home?
Answers on a postcard please (or by mail to [email protected]).