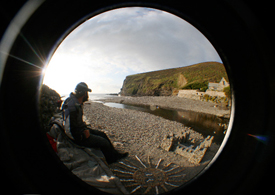 Some things come and go in life, and I often have cause to appreciate the importance of the "be here now" mind-state.
Without it I guess I would not have crossed paths with George – aka Dr Geebers – who, if I can sum this up, is on a crusade in search of the simple smile, sharing his patience and artistic talents along the way.
George is a homeless man walking the coastal paths from Brighton, frequenting certain beaches of his choice, leaving behind his trademark style of pebble sculpture.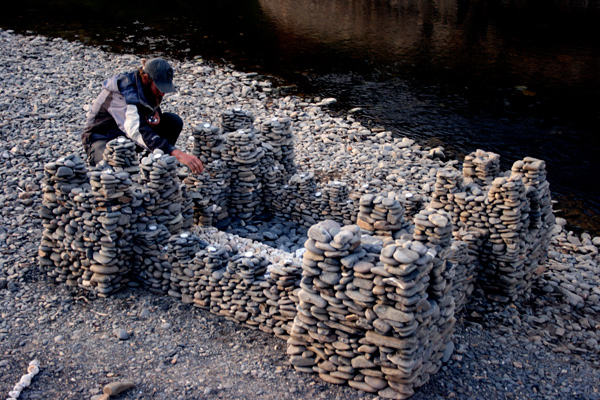 Nowadays most people go to the beach and build sandcastles – with a few spade-fulls of sand and a tap… hey presto – a castle! George's castle is three days in the making, and his patient placing of every stone is highly commendable!
The inquisitiveness of human nature is met with smiles and conversation from all ages. Let's dig a little deeper…
So where are you going?
I am on a coastal walk from Brighton to Brighton, venturing around the coast of the UK. It could take at least a year or two, although I set off from the end of Brighton's Fringe Festival and I've done 14 beaches already.
Prior to this I used to do sculptures on beaches and promenades. I raised some smiles and it felt good; I guess now I'm just on a journey and leaving my mark.
What drew you to my local?
The stone here is good – there are lots of different colours. That's usually how I come to chose certain beaches. There are a lot of people doing sand sculpture, which is amazing and requires just as much patience, but I'm doing my own style and at every beach I build on I try to do a unique piece.
Do people respect your work?
There's only been one occasion where some kids trashed my work, and I just started again. Likewise, you can spend so long on a section and then it will collapse, so you gotta just roll with it and keep going. As I build a piece and it attracts attention, people who see it under construction tend to want to come back and see the finished piece. I have a donation mat and some people are very generous; but it's not about money – I get to meet some great folk and see some wonderful places.
And what's next?
Well I hope to one day make a book, or showcase the work from my travels in some way. I could write so many stories about the places and faces, and I hope that I'll be able to help out homeless charities and 'The Big Issue' by spreading some awareness. I guess it's my way of giving something back.
Maybe I'll go around again – we'll see what happens.
Any last words?
I get a lot of praise from people, and I would just like to say it back. I can't thank you all enough for the support.
You never know – the next time you're at the beach you may come across sculptures once built by Dr Geebers, or you may actually see him creating. I suggest you go up and say hi, take some pictures and throw him a donation for his efforts. It's purely by chance that you'll find him, and that is the "be here now".
To give you a hand, I'll keep you updated on his whereabouts.
You can become a fan of Dr Geebers on Facebook and follow him on MySpace too.