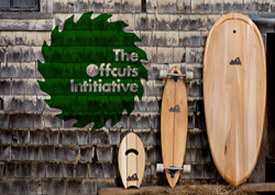 In keeping with the parsimonious habits of the New England wood shop, Grain Surfboards have a lot of small pieces of wood piled around the shop in every spare corner in case they might come in handy for something.
Inconveniently tripping over scrap wood turns out to be a form of forced inspiration that has led to a group of products which have become part of Grain's Offcuts Initiative as all that scrap wood has gotten a new life as hand-planes and http://www.grainsurfboards.com/boards/body-surf/sea-sled/.
Most recently they've converted those dusty piles into skateboards made by a local deck-presser. The Grain Cider Hill Skateboard has gotten so much attention and has been such a great way to make sure that they're using the resource wisely that Grain decided to hire Courtney on and bring her operation right into their own shop. By pressing leftover veneers of wood too thin for surfboards onto her sustainable-certified maple decks and applying eco-resin bamboo-cloth grip finish to the decks, she's become the latest change-agent in the Grain family that helps them to do the best they can to do the right thing and still make great-performing stuff. Look for the Offcuts Initiative logo on the Grain site to know that you're "part of the solution".