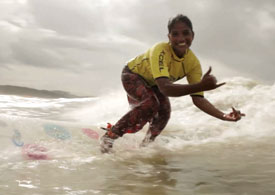 Who Is The Most Fearless? 16 year old Nasima Akter struggles to achieve her destiny as a world class competitive surfer in conservative Bangladesh where women don't even swim in public.
The Most Fearless is a documentary film in production and a dynamic, universally accessible true story. A film about youth, hope, and surfing; full of compelling characters,set in an exotic location, and rich with contemporary global cultural relevance. This film touches on the current conversation about youth culture, women's rights, the clash and complement between east and west. This film challenges us to examine our own expectations of what is fair, just and what is possible in this world for any of us.
To find out more and back the project, head over to the Kickstarter page.
"When I surf… I can finally just be happy and forget about all my problems on land."