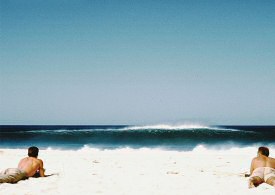 Maybe an early Christmas present for your book worm surfing mate, written by one of the world's leading surf historians, this nearly 500-page tome – with more than 300,000 words and 250 archival images – is the definitive book on surf history and culture.
Matt Warshaw knows a hell of a lot about surfing, and is up there with the most knowledgeable authors out there. After five years of research and writing, he has completed a totally unprecedented history of the sport and the culture it has spawned. With a voice that is definitive, funny, and wholly original, The History of Surfing is definitely worth a read. If you were lucky enough to get hold of Photo/Stoner you'll know he's got access to some rare material and knows how to handle it.
Matt Warshaw is the former editor of SURFER magazine. A surfer all his life, he is the author of several books on surfing, including The Encyclopedia of Surfing, Maverick's, Photo/Stoner: The Rise, Fall, and Mysterious Disappearance of Surfing's Greatest Photographer, and Zero Break: An Illustrated Collection of Surf Writing 1777-2004. £35.00 and released in October.