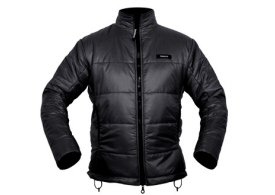 She's back, our famed Etobicoke has arrived and pre-orders have been flying out over the last month.
In its third year – This classic insulation piece has been one of Finisterre's most popular garments and has been hailed as a 'design classic' amongst industry experts, athletes and customers alike. This year's Etobicoke builds on the functional design of the original, with some added extras and in great new colours.
The original Etobicoke succeeded in providing minimum weight, with maximum warmth. Finisterre's two designers have worked hard to make this years Etobicoke warmer than ever before with warmth to weight ratio three times higher than any other jacket in the Finisterre range. Advances in recycled fibre technology have allowed for a lighter shell fabric, which still maintains the key strength the Etobicoke is famed for. Lined pockets, and a re-enforced collar are featured again this year along side an advanced elasticised waste. As an added bonus, it folds into a pillow and packs easily into the spare space in your bag or glove compartment.
This year Finisterre has had a number of great product testers pushing their garments to the limit, so you can be assured that your Finsiterre garment is expedition tested in some of the harshest conditions. The Etobicoke has seen action across the world, and has become a staple for a number of key athletes and explorers. Recently James Bowthorpe smashed the round the world cycle record by three weeks with the Etobicoke in his bags, and ambassador Ian Battrick has been breaking out the Etobicoke after some very cold sessions in the artic circle.
Tom Kay, Finisterre founder stated that, "customers have hailed the Etobicoke as the 'perfect jacket', it's lightweight, warm and has every feature you might need whether you've been caught out on the mountain or on the street cycling to work."
The jacket comes in two great new colours, Raven Black and Olympian Blue for Men and Jasmine Green and Raven Black for Women. Get one now at www.finisterreuk.com