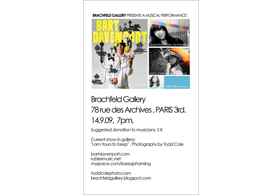 If you're anywhere near the Rue des Archives on Monday (14 September) night, check out the pop-up show at the Brachfeld Gallery.
Bart Davenport, Simone Rubi, Kacey Johansing and Molly Tuttle have all made the trip from California to wreak their own kind of folk-pop-blues-bluegrass mayhem on Paris's music connoisseurs. Rock up between 7-10pm and say hi, bust a few moves, throw some shapes, or just shuffle in time (or not) with the beat. Whatever floats your boat…
Thanks to Ed for the heads up.