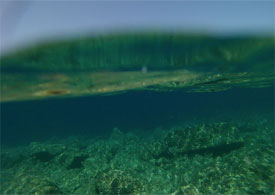 These days it's a cliché to think of British surfing as a novelty pastime. In fact, last August saw the 50th anniversary of the sport on British shores and, on the right day, our island's coastline rivals anything the original Beach Boys' native California has to offer. It also represents a major part of the economy on the Cornish coast, bringing in some £70 million every year.
To spin a yarn fit for all you wave lovers, way back in 1962 four Australian teenagers sailed to Tibury Docks and headed out to Cornwall – bringing with them the first fibreglass surfboards and replacing the rather crude wooden belly boards already in use. Amazing and captivating the locals with their advanced abilities and wild beach parties, they set in motion a love story which continues today.
So why not honour the memory of those inspirational boys and head out to one of the many great surfing spots throughout the UK. Whether a Kook or the Big Kahuna there are beaches and breaks aplenty.
Watergate Bay, Cornwall (beginner)
The original and arguably the best. Watergate Bay is where those pioneering Australians originally made their home. With some two miles of beach at low tide, you can expect plenty of space and some truly awesome waves. Also available are a range of other sports both on the beach and in the surrounding area.
Porth Neigwl/Hell's Mouth, Gwynedd, Wales (intermediate)
Hell's Mouth might sound a little intimidating but actually offers up waves perfect for the intermediate surfer. Possibly the most popular surfing destination in Wales, visitors can't fail to be impressed by the four miles of beach and the rocky cliffs to the south-east.
Thurso East, Scotland (expert)
Quite simply one of the best waves in Europe. Here you will find huge surf that, whilst offering some truly exhilarating rides, will test even the most experienced around. However, with such a reputation, you might be hard-pushed to beat the locals to a decent spot.
With the best British surfing available towards the end of summer or in the autumn, there is still plenty of time to jump in the car and carve a few waves. And with van hire from Sixt, you'll have no problem reaching all of those isolated spots in comfort and with all your equipment safely packed away. Hire a car and follow the routes laid out by those original Australian teenagers or scour the map for something a little more remote. Either way, with the freedom of having your own transportation to make your way around, you are sure to have an authentic surfing experience.