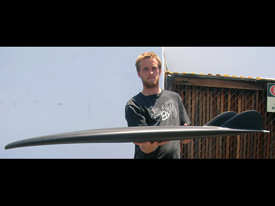 Rui from Magic Quiver in Portugal chats to Jeff McCallum. This article is also available in Portuguese…
Rui: You started out in the surfboard business packing boards for Christenson. Did that mark the beginning of your interest in shaping, or what it something you had already considered?
Jeff: For sure, from the very beginning, even before Christenson, I wanted to shape. I just didn't have access to the necessary means. But once I got into Chris's place it was on; shaping really consumed my life, I lost a lot of sleep thinking about boards. But it's hard to get the opportunities I had – I was really lucky. So I try to help out people who are into it when I can, trying to share the stoke.
Rui: Was Christenson was a big influence on the kind of surfboards you make now?
Jeff: Yeah, he was a big influence, just because I learned so much from him. I got into his place right when he started the alternative thing, and all I rode was alternative boards so I fitted in well there. I learned a lot from Chris, and that has been a big part of what I create. But when I moved on to do my own thing, my influences began to spread more and more, and are still spreading today.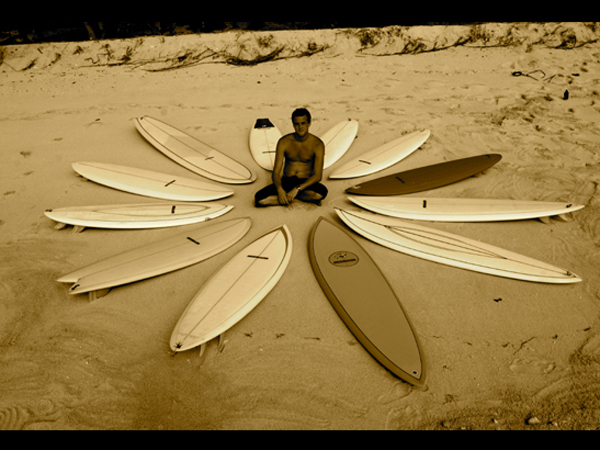 Rui: You're from San Diego, home of the fish, yet you only shape 'alternative' surfboards. How come you don't do fish? Just not your thing, or is it that you want to go beyond that?
Jeff: I was into fish for a little bit, and made some I really liked, but once I was over it I never looked back. I guess they aren't my thing, but that comes from wanting something better. This is partly because being taller (I'm 6'3"), I was riding bigger fish (around 5'10"), but I believe for traditional fish to work as they are designed or how I want them to work they need to be small – like 5'6" and under. That's where the Quagg came from. I learned how to surf on singlefin eggs, and then transitioned to fish, but felt the parallel rails would gag and not be as fluid. So I went back to the egg – it was gonna be a singlefin but I had been reading about quads and went for it. So I made a 5'10" and the thing was insane. Everyone that rode it wanted one. It wasn't ever shaped that well, but the idea worked so I knew they would only get better.
Rui: Since you made your first Mini-Simmons it has become a pretty common design. How did you came up with that, and do you think it's just hype or does the design really work?
Jeff: The first Mini-Simmons was Casper. It was shaped by Joe Bauguess for RK, and they'll tell you that they each came up with it. But I saw that one and did some research on Bob Simmons and decided to make my idea of the Simmons so I made the second one ever. Casper was painted all-white so I made mine all-black, which fitted well, since I got so much shit for making those boards in the beginning 'cause those guys were claiming it as theirs. When in reality it is a Simmons design that has been resurrected. So mine was the Black Sheep of the Simmons, which I kind of like. I think it's rad that so many people are making and riding them now, and it's even better to see the variations people are coming up with. I think the design works really well, but they are the type of board that – to get what you want out of them – you have to commit to them. But they are for real, for sure.
Rui: You say that your New B model is "designed for the ultimate performance while not a shortboard". Do you think you've pushed your designs to the limit?
Jeff: The New B is a relatively new design for me, and in the last year I've been refining it to get it there in terms of performance. The deck and rail design allows you to ride a smaller, thinner board than your standard alternative board and still maintain all the paddle. Yet its thinness and progressive rail retains the performance. I was doing it for a long time, but have now refined it – I always knew it worked but now I understand how and why, and how far I can push it without losing anything.
Rui: You're not only a great shaper but also a great glasser known for the quality and attention for detail. Do you still glass a lot of boards yourself or are you concentrating on shaping right now?
Jeff: Right now I'm concentrating on shaping, but all my boards are glassed under my roof. I have built a small team that shares my passion for the details and are amazingly skilled. But I still enjoy getting in the resin. I'm gonna start a solo series for which I will do every step, from start to finish. I still do 90% of all the resin colour on my boards.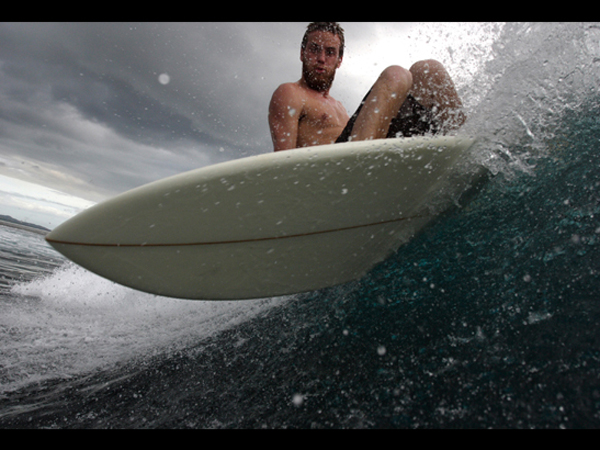 Rui: Shaping or surfing? What comes first? And what board do you usually ride on your daily sessions?
Jeff: It used to be surfing, but in the last few years shaping has become more of a priority. I still check the waves everyday, but I pick my days better. I enjoy the big days the most, so I try to get my work done when it's small so that when the waves are pumping I can be on it. But this season was really small so I've been spending more time freediving and spearfishing.
Rui: What are your expectations about Europe? Do you think the European surfer is much different from the US ones?
Jeff: I expect Europe to be rad – I think the European surfer has a better understanding of what they want and what they appreciate. I'm looking forward to getting some boards over there and getting people stoked.
A couple of weeks after this interview, Jeff was in France at the UWL factory where he shaped some boards and got everybody stoked.