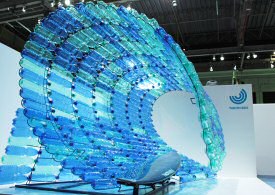 TWOTHIRDS was established in San Sebastian, the heart of the Basque Country, in the year 2010. Its founders started a surf-inspired street label to be set apart from others. A brand that stands for pure design, high quality sustainable fabrics and a deep connection to the ocean. More than a green brand we see TWOTHIRDS as the blue company.
The company presented their label and collection for the first time, from 7-9 July, at the Bread & Butter, Berlin, one of the leading international tradeshows for streetwear. The location was the mesmerizing and historical building, Tempelhof Airport. At the show TWOTHIRDS combined efforts with artist Kathleen Egan in a bid to further promote the health of our oceans, by way of a PET plastic bottle sculpture.
The Plastic Wave, made out of 500 Pet bottles, was the eye-catcher in the Sport & Street hall, where they exhibited. The exhibit not only attracted people into the TWOTHIRDS booth, but was an attempt to further inform and promote thinking beyond the world of fashion. It helped to create awareness of the current topical debate surrounding the volume of rubbish in our oceans, but also that we have the power to stop this.
You don't get barreled too often in Berlin, so the installation drew a crowd; visitors got inside the wave and also signed a petition for an ocean free of plastic.
A little background to Kathleen Egan:
Kathleen is an artist/activist living in San Francisco. She explores remote beaches around the world looking for surf and post-consumer plastic. She collects washed up plastic debris and transforms them into plastic wave art. Most of her art work is composed of mosaics, made from plastic "chips" that she has collected from remote surf areas such as Alaska, Indonesia, and El Salvador. Her goal is to show how pervasive plastic pollution is throughout the oceans. Our paradise, a perfect wave on an uncrowded beach, is being invaded by non-biodegradeable plastic.