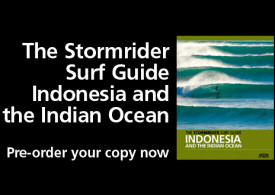 Some surf guides just don't cut the mustard. This one however, cuts the mustard, spreads it on some toast and tantalises your hydrocephalic taste buds until you can't take it anymore and book a ticket.
We see a lot of surf guides come and go. Most don't demand much attention, but the Low Pressure books go an extra mile. It's not always the information that makes a book great, but how that information is presented. Sure, anyone can find out where to go surfing in Indonesia, sometimes we feel like we've visited a destination simply through other travellers stories. But Low Pressure pay a lot of attention to layout, contextual information, graphical signs and clear presentation of information. If you're not an expert, you do find your way around the book very quickly and learn where and how to read the symbols and charts. The guides are consciously big, so that you can take advantage of the information. The photos and words are current and the entire package does itself justice.
This chapter in their portfolio covers the Bay of Bengal, the Maldives, Madagascar and Mauritius, parts of Sri Lanka and Southern India as well as the well-trodden and slightly crumbling surf dream of Indonesia. Get packing.
Visit The Stormrider Surf Guide to Indonesia