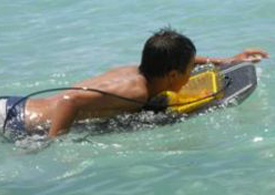 Eco-friendly scientists in Hawaii embed test tubes into their boards.
We all know that there's nothing more frustrating then being stuck at work on a good wave day. An ingenious bunch of scientists in Honolulu have found a way of taking their work to the beach by embedding their test-tubes into their boards!
They fill up the test tube, paddle out, catch a few waves then catch a wave back in once the chemical reaction has finished.
The chemists at the University of Hawaii use the "surf reactor" to harness sunlight to create versions of the vitamin A molecule with unusual geometries. They say the ocean is perfect for harmlessly soaking up any excess heat made by the chemical reaction in the test tube.
Experiments like this usually need cool water pumped around them to keep them cool, so this "simple floating solar reactor" is the eco-friendly option.
The scientist who built the board says it would be easy to scale up the reaction by just using a bigger surfboard.
I'm impressed.
A few more pictures here (plus the paper if you can stomach it).