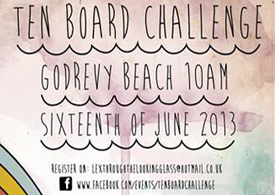 Alexa Poppe's and Sarah Bentley's Ten Board Challenge is back again this year at Godrevy on the 16th June. It is a girls-only fun competition with an emphasis on style and stoke.
Entrants choose one of ten boards which will include fishes, longboards, shortboards and mid length boards by a variety of shapers. The competition criteria is designed to encourage all kinds of surfers to enter, to push their surfing on boards they might not always ride and it will be a great chance for people to try some different shapes. The day is all about getting together, trying different boards, good vibes, sharing the stoke, drinking tea and eating cake.
There will also be an evening surf film showing by Approaching Lines in the Godrevy cafe and some great prizes supplied by our sponsors. The event is supported by The National Trust, RNLI, Surfgirl and Vans.
To enter please email: [email protected]