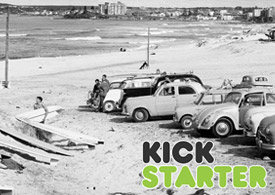 The original seminal surf book Switch-Foot could be back in its third incarnation thanks to a Kickstarter campaign.
It is nearly ten years (2005) since the first Switch-Foot book took to the surfing world, creating ripple effects wherever it went. The book sold out very quickly and as we understand it will never be reprinted again. If you can find a copy, grab it!


Switch-Foot II arrived in 2009: a mammoth 368 pages and was also nominated for an Australian Surfing Hall Of Fame Award. Rolling Stone magazine gave the book a double spread, The Sydney Morning Herald a glowing review and more importantly Drift Surfing devoted an entire photo feature to its glorious being, the only bummer was that George Greenough said it was 'too big to hold in the bath tub', this affected sales.
NOW: Surfers are requesting a third book and Andrew Crockett is running a Kickstarter to make sure this happens.
The new book will be 210-230 pages long and it is purported to have some of the best photography ever seen. From diligent digging and research by Editor Andrew Crockett and the support of photographers like John Pennings, Bob Weeks, Ron Perrott, Peter Green and Dave Milnes.

To check out the Kickstarter click here
To find out a bit more visit the Swtich-Foot Facebook page