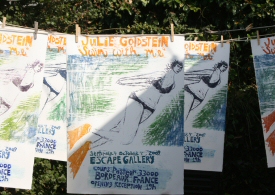 Renowned American artist Julie Goldstein will be exhibiting from Friday, 4 September (7pm opening) to 4 October at the Escape Gallery in Bordeaux, France.
Julie's work has been profiled all over the globe, and was included in the 2008 Happening Tour. She works with a variety of formats, mainly print and canvas, but also with textiles and other traditional women's arts. Her work is illustrative in nature, using a mix of gestural marks, simplified areas of colour and typography. She exists within a sphere of talent akin to TMoe and Yusuke Hanai.
Check out Drift's profile of her work here.
Swim with Me
Solo Exhibition
Opening Friday 4 September 2009, 7pm
On view through 4 October
ESCAPE GALLERY
cours Pasteur 33000
Bordeaux, France