Most of us have heard of the Great Pacific Garbage Patch, a great lump of plastic floating in the central North Pacific Ocean.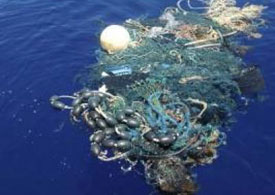 Currents sweep debris from the coastal waters off North America and Japan into a 'dustpan' twice the size of Texas called the convergence zone. Wind-driven surface currents squish the plastic toward the center of the lump.
It sounds quite impressive, but can be fatal to local wildlife. Jellyfish mistakenly think the floating particles of plastic are zooplankton and consume them. The long-lasting plastics work their way up the food chain and end up in the stomachs of marine birds and animals. Before being eaten the plastics absorb pollutants from sea water, so they contain dangerously high levels of toxic chemicals such as PCDs and DDT which cause hormone disruption.
The plastic fragments, include bottles, ropes, lighters and Styrofoam which have degraded into tiny, sludgy pieces making the cleanup difficult. Some ocean scientists think it will be impossible to clean up this mess.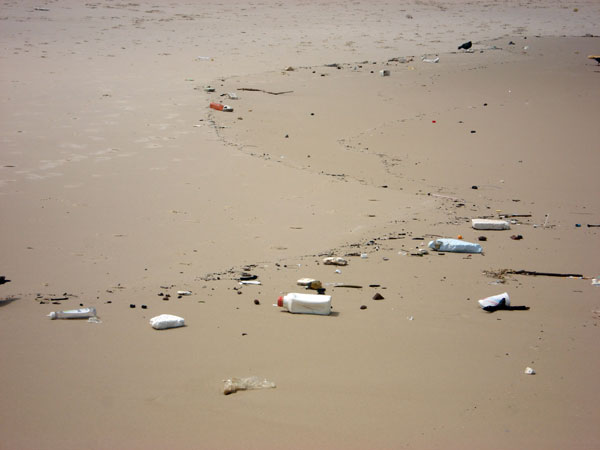 Enter Richard Owen, a scuba diver and building contractor. In 2008 he formed the ECC (Environmental Cleanup Coalition) to sweep up the mess in the Great Pacific Garbage Patch. His plan is nothing if not stylish, in fact if he can get funding it will be the largest marine pollution cleanup and restoration project in the world, ever. He is going to modify a fleet of 20-30 ships to create a giant laboratory called Gyre Island, specially designed to cut right to the center of the Great Pacific Garbage Patch and trawl out the trash for recycling. As if that wasn't enough, he is planning on using the Gyre Island fleet to house a tasty sea vegetable production farm, growing seaweed, kelp and algae as a food crop. He is even going to throw in a marine fish hatchery and release 10,000 tuna into the Pacific Ocean. What a man.
The ECC is planning on spending the rest of this year fundraising to get this massive project ready for launch in 2010. To do your bit go to www.gyrecleanup.org