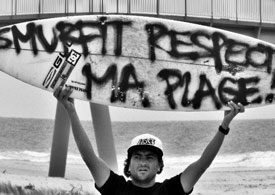 In July 2012 an incident occurred in the paper factory Smurfit Kappa. The prefect authorised the release of blackish water into the ocean via the Wharf de la Salie. On the 2nd September 2013, the Criminal Court of Bordeaux discharged the company responsible for the pollution of water ways in Lacanau, Leyre and Bassin d'Arcachon! Surfrider has decided to appeal this decision so Smurfit can finally be convicted.
The accident occurred at the paper factory on the 5th of July 2012. A crack in one of the tanks led to the discharging of hundreds of cubic meters of black liquid into the Lacanau River. Adding to this was the decision of the Prefect to dispose of the waste via the La Salie Wharf, thus threatening the fauna and flora in an already fragile area.
Due to "the absence of any real certainty on the cause of the accident, proof of reckless behaviour, and characterisation of a moral element", the judges at the Criminal Court of Bordeaux acquitted the company Smurfit Kappa despite the fact that the public prosecution had called for a €40,000 fine during the trial in June.
The verdict is extremely questionable and the civil plaintiffs intend to appeal against the decision in order to bring about a conviction of the company for pollution.
You can find out more here: Blog of the Keeper (French) and on the Surfrider website.