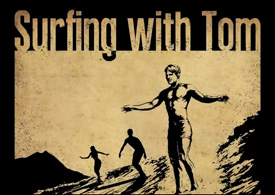 The story of surfing and lifesaving pioneer Tom Blake: a man who changed millions of lives and then walked into obscurity.
Surfing with Tom tells the remarkable story of one of America's greatest surf pioneers, Tom Blake. This Kickstarter campaign will trace the arc of Tom's life: from his birth in 1902 in Milwaukee near the shores of Lake Michigan, to being orphaned at 11 months after his mother's death from tuberculosis, and the journey that led him to the shores of Malibu, Florida, Waikiki and ultimately to his final years in Washburn, Wisconsin.
More than a mere footnote in the history of surfing, Tom's life is as remarkable as his accomplishments. The hollow surfboard and the fin brought surfing to where it is today!
Click here to view the Kickstarter page