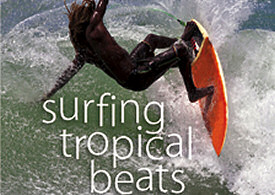 In this much anti­cip­ated sequel to Surf­ing Bril­liant Corners, Sam Bleakley and the surf­EX­PLORE team take us on a roller­coaster ride through Gabon, India, Viet­nam, Algeria, China and Haiti, drum­ming up a trop­ical beat.
Com­bin­ing 'Deep Travel', John Callahan's incred­ible pho­to­graphy and Sam's per­form­ance writ­ing, they cap­ture the spirit of these tur­bu­lent coast­s­capes, blood racing, run­ning on salt­water fuel. The wide belt around the Equator – the trop­ics – has become an allur­ing path for travel, but a region often steeped in war and envir­on­mental dis­asters. Sam and surf­EX­PLORE go off the reg­u­lar route, carving a niche, col­lab­or­at­ing with loc­als, doc­u­ment­ing the occa­sion poet­ic­ally and with pre­ci­sion. Where 'waves trans­form from green glass to white foam, the surf­board is the frozen double of that trans­ition – a rain­bow bridge that allows you to step in the blink of an eye from iner­tia to adrenaline-​​fuelled ecstasy to the fear of the water-​​wrestling hold-​​down.' The para­dox­ical red hot and cool blue of surf­ing, and the often icy logic of pre­par­a­tion for chal­len­ging travel, form a mat­rix from which springs a dis­tinct­ive kind of writ­ing as performance. By turns, surf­EX­PLORE gather their wits at the cross­roads where 'lov­ers part and souls get taken by the lost high­way, lured down the wrong route.'
Sam and John have a com­bined work ethic that eclipses any sense that surf travel is an easy liv­ing. When they go to work, they go to work!
1 surf­EX­PLORE
2 Get­ting Trac­tion in Haiti
3 Gabon to the Point
4 India Multikulti
5 Viet­nam Hot and Cool
6 Algeria Under the Rainbow
7 China Cat Sunflower
8 Haiti Post Quake
9 Haiti Apocalypso
10 Infu­sion Surfing