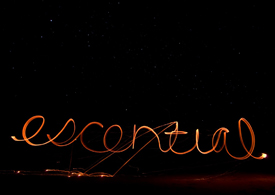 Carl is the man behind Es-cent-ial. Rui from Magic Quiver in Portugal shares some of his stoke and passion for surfing, and finds out a bit more about him and the Es-cent-ial vision. (Versão portuguesa).
Rui: When did your relationship with surfing begin?
Carl: My love for the water has always been there. I started to surf when I was 18 years old, and I was immediately addicted. My favourite thing about surfing is that you never know when the next best slide is coming. It can be knee-high with a ride to the beach, or a head-high barrel. Both give you that craving for more.
Rui: What boards were you riding back then?
Carl: My first board was a used hand-shaped 9'0" Robert August singlefin, with a blue resin tint. I couldn't have asked for a better board, until I bought my second board, a 9'6" Takayama model T singlefin.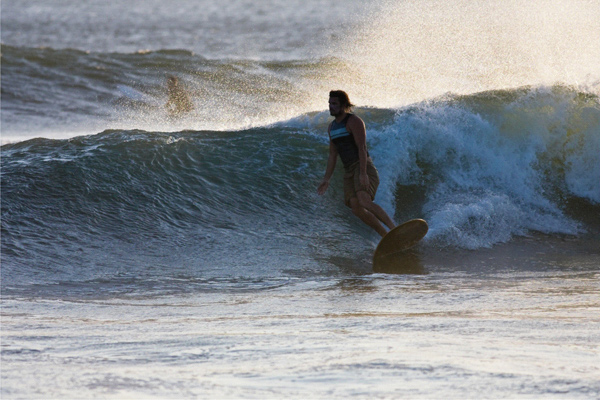 Rui: What do you ride now? What changed?
Carl: I have a couple of boards. I would say I predominately ride singlefin longboards. I have a Mayo 9'6" pintail single fin for bigger days and a 9'7" Bing glassed-on singlefin 'pig' for the smaller days.
Rui: Why the wetsuit industry?
Carl: I have tested the water in various surf-related industries. I started shaping boards in my garage and slowly moved on to design my own wetsuit line. Wetsuits are more complex than some might think. At Es-cent-ial, we are trying to fill the void. The void can be different, depending on the customer. Luckily, my uncle owns a manufacturing facility for wetsuits and lycra shirts. The company is called Ocean Tec and mainly focuses on private labelling products.
RELATED: The Complete Wetsuit Guide
Rui: What's the Es-cent-ial ethos?
Carl: My uncle and I got together and decided to offer a minimalistic wetsuit with all the strength. We wanted to offer very few logos and simple designs, but use all top of the line material. All of our suits are constructed with Yamamoto rubber and hollow yarn fleece for the chest panels. Es-cent-ial should show customers and surfers that quality doesn't always come with added cost.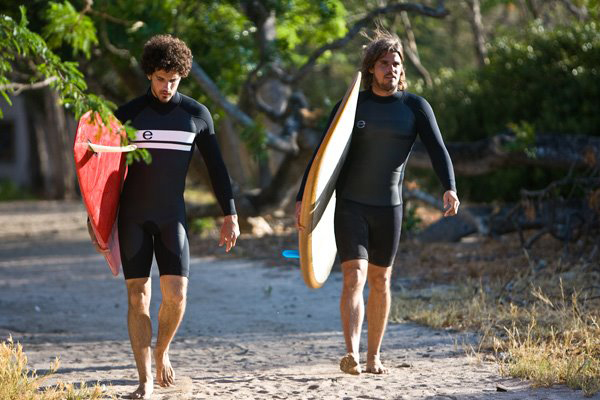 Rui: So you think there's a market for a company that concentrates on the customer, not the profit?
Carl: Profits aren't everything: product quality and consumer loyalty will drive the Es-cent-ial 'train'. Companies these days pay a lot of lip service to different causes. Es-cent-ial uses eco-friendly materials and we give back to the surfers. We want our customers to know that their loyalty and feedback will shape Es-cent-ial as a company.
Rui: Es-cent-ial started online and it's growing fast – you've now reached Europe. The web and the blogging world are very important nowadays, aren't they…
Carl: The internet is a powerful marketing tool, especially within the blog world. Es-cent-ial is very selective with their advertising. Our message has to be clear and it has to correspond with our overall ethos. The blog world has enabled us to give that vision to our followers. We are currently developing a new website which will keep our loyal customers in tune with new products, art, and surf adventures.
Rui: Es-cent-ial started with just a few models and now you've branched out into accessories and even t-shirts. What's next?
Carl: At the moment, we are trying to nail down the men and ladies wetsuit lines. That includes 5/4s, 4/3s, hoods, gloves, and booties. Once the wetsuit line is in full gear, we would like to get into offering surfing essentials, board shorts. Just like our wetsuits, the board shorts will be wrapped around function and minimalism. I have offered a couple preliminary designs on the blog; feel free to send me some comments.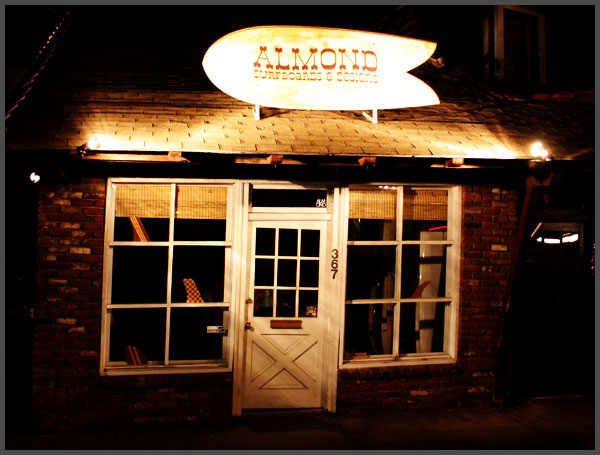 Rui: Es-cent-ial has a good connection with Keith Novosel and Almond Surfboards. How does that work for you?
Carl: When I created Es-cent-ial, Keith was the first and only photographer I contacted. He has been the driving force behind the creation of the Es-cent-ial 'look'. His pictures make you want to surf and explore for the next best session. There is a certain connection with Keith's pictures that surfer's can relate to. Keith is one of the few that puts his heart and soul into bettering Es-cent-ial as a whole.
Dave at Almond is a current customer of Es-cent-ial wetsuits. Es-cent-ial and Almond have a common bond; we both love surfing for the simplicity and the feeling of the slide. We have created a limited addition 'Almond' line of wetsuits for the sole fact that we believe in Almond and the message they portray. When you see photos of their shop, the boards he shapes, or the clothes they design, you know they get it.
Rui: We see alternative surfboards grow very fast these days. What's your view on that? Just a trend?
Carl: I dig anything that let you feel the glide or the power of a wave. If it is a 5'6" fish or a handplane, both can give you the stoke. Me personally, I love the ride of a singlefin log. There is nothing like trimming on a singlefin – I love it.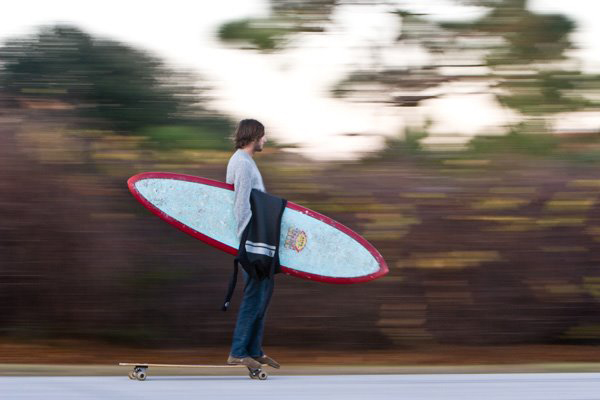 Rui: What's the future for Es-cent-ial?
Carl: Es-cent-ial's future is open, and determined by the people who believe in its simplicity. We want to support surfers and their dreams in all aspects of the art. It started with a dependable wetsuit and who knows where we go from here.
If you don't surf, you should. But, if you do decide to open your mind to the great ride, it is essential to be open to all surfers, styles, boards and waves. And only then can you feel the fulfilment of surfing, and we hope you do.