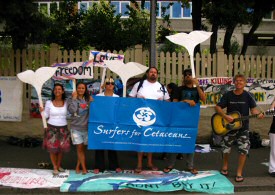 Representatives of the global surfing community have united on Jersey in the Channel Islands as the International Whaling Commission holds it annual meeting to discuss and debate whale "stocks" for the coming year.
Surfers for Cetaceans have travelled from California and Australia and are calling out for local ocean lovers and wave riders to join them in the peaceful protest outside the controversial meeting. Many Sea Shepherd Conservation Society volunteers, supporters and other animal rights activists have based themselves outside the Hotel de France, St. Helier, where the commission is holding a 4 day conference attended by international delegates, non government organisations (NGOs) and media.
In a bid to be a voice for the whales and dolphins, who are widely recognised by most people as highly intelligent sentient beings deserving total freedom, yet still regarded as a resource to be hunted and exploited by a few recalcitrant nations, S4C are here to encourage UK surfers into taking a stand for our oceanic family.
"We're here to show the surf community just how ludicrous this forum is; that rarely gets any thing done and how its all just government politics. This is the only convention in the world for an animal and what better group of people to represent the whales and dolphins than surfers. We're also here to activate the local community and prove its never to late to get your voice heard."
Howie, Justin and Chris have been met by tremendous support, with the first day of protesting here being the biggest, most active turnout since Santiago, Chile in 2008.
Surfers for Cetaceans will be presenting their brand new documentary Minds in the Water at Jersey Arts Centre on Thursday 14th July at 7pm, followed by a special fundraising gig with local artists.
They'll then move across to mainland UK for a benefit screening in Newquay, Cornwall on Sunday 17th July at Newquay's Lighthouse cinema (pre art-party from 6pm Café Irie), before hitting London for a final screening on Wednesday 20th July at the Soho screening lounge.
Tickets can be purchased at each screening centre (so book soon to avoid disappointment), Jersey; thisisjersey.co.uk 01534 700 400 Newquay; wtwcinemas.co.uk/ 08712003304 – apart from London which is guestlist only; email [email protected] to get your name on.