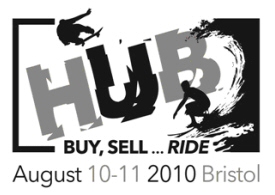 When the wheels came off the ecomony (and Drift) back in 2008, the surf industry shuddered. Share prices fell, magazines prepared for the inevitable and retailers folded. But to add a positive shine to 2009, the Surf Expo is back for 2010. And where is it? Right on my doorstep. I'd better get an invite.
It's official, the Expo has returned in its new incarnation, The Hub. Rather than rewrite the press release, here it is:
Surf Shop Expo was postponed in 2009 due to difficult trading conditions, and the new tradeshow is designed to create a fresh offer for the boardsports business, and a new focus for the industry.
Strictly trade only, the new show, HUB will bring together the best brands and buyers from across the UK, Ireland and Channel Islands for two full days of business, buying, networking and inspiration.
New branding and location:
Surf Shop was always about more than pure surf, and HUB, (which will incorporate the former Surf Shop) is designed to cater more clearly for the whole of the boardsports business.
The new show takes place at the Bristol amphitheatre and waterfront square, right in the city centre (and an established local skate spot), with a series of marquees offering a focus on each sector of the business. The waterfront is at the heart of Bristol's cultural centre, with plenty of cafes and bars on site for networking during and after the show, and buyers will even be able to start their trip by taking the ferry from the train station to the venue.
The transport links to Bristol are excellent, with direct flights from the Channel Islands, Ireland and the north of England as well as internationally, and the city has easy access from the South West, Wales and London.
Bristol is also a thriving university city, with a strong culture of surf, skate, bike, arts, fashion and music, all of which provides a great fit with the show, and additional inspiration for visiting retailers.
Exhibitors:
Showcasing hardware, apparel, accessories and footwear for surf, skate street and much more, the show will be zoned across the amphitheatre and waterfront to offer buyers dedicated areas featuring complementary brands.
Visitors can expect to see the full offer from the hardware side of the business in a dedicated hardware section, in addition to the best clothing brands in street, skate and surf.
Dates for 2010:
HUB will run August 10 – 11 2010, prior to the August ASR to accommodate brands and buyers who need to attend both shows.
"We have taken the opportunity to review everything, and consulted with the industry to meet the eventual upturn in business with renewed energy. This is exactly what HUB will deliver. We're looking forward to a re-energised 2010" says event director Lucy McPhail.
So – watch this space I suppose, will the UK's surf industry respond or is it too early to tell?