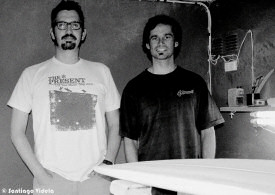 In the first of a series of three short interviews, Santiago Videla from Argentina talks to Ezequiel Macchi from Bessell Surfboards.
As a surfer and a photographer I have always been interested in the lifestyle of the shaper. Sometimes having the appearance of a mad scientist, I decide to reveal some of the mystery by taking the time to chat to one such shaper.
His name is Ezequiel Macchi from Bessell surfboards. Ezequiel has been shaping boards since 2001. In his early days he worked alongside Tim Bessell in San Diego and La Jolla, spending time with the great Mike Hunson (The Endless Summer) and shaping for G&S and Sunset boards.
After three years in Los Angeles he moved back to Argentina to continue working with Bessell. Today he's sitting in his shaping room talking to me about the surf scene in Argentina, his haping room and his boards.
Do you have a favourite shaper? Skip Frye , Al Merrick , Luke Short and of course Tim Bessell.
Which surfers do you have respect for? Well from Argentina I would say Juan Manuel Arca , Leandro Usuna and Santiago Di Pace. But in the context of world renowned surfers I would have to include Kelly Slater, Tom Curren and of course Gerry Lopez.
What do you prefer to shape? Guns.
What board do you prefer to ride? Shortboards.
Describe briefly the surf scene in Argentina. We have great expectations and potential. There is a lot of work to do and many things need improving. However here in Mar Del Plata there are a lot of people shaping, developing their own styles and enjoying the ocean everyday, with its strong south west swells.
[imagebrowser id=59]
For more photos of Santiagos work visit:
www.wix.com/santiagovidela/surfshots
www.noleashonmyboard.blogspot.com/
www.flickr.com/photos/kingforadayfoolforalifetime/