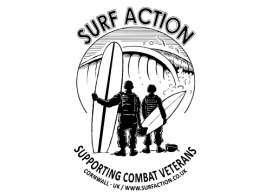 The Surf Action Surf Fayre is a gathering of Cornwall's finest surfboard shapers and surf related businesses, local art and craft. This is a fundraising event with Free entry that will help Surf Action continue their great work with Combat Veterans.
This Fayre will be take place between 10am and 8pm on Saturday 6th August at Sennen Sports Hall in Sennen.
The Surf Fayre will present surfboards shapers such as Slide 65, Seed Surfboard Company, Diplock Pheonix, Royal Surfboards, The Original Surf Board Company, Traditional Surfing Company, and Otter Surfboards.
Russ Pierre, event organiser and Director of Surf Action commented: "This will be the first event like this held in West Penwith, its and opportunity to show what amazing products the Cornish surfing community has to offer. There is so much emphasis on importing from other parts of the world and yet we have some fantastic businesses here in the UK and especially the West Country."
"The boards that will be presented are works of fine craftsmanship, hand shaped and finished, of all different shapes and sizes. This is an opportunity to talk to the shapers and expand your knowledge of a surfboard design. There will also be two hand shaped surfboards and an original framed piece of artwork by Jessica Cooper to be won."
Supporting this will be South Shore Surf Shop, Surf Smart, Sennen Surfing Centre, Jilpi, The Brotherhood of Chunk, and many other local businesses.
Surf Films from past to present will be showing all day with in the comfortable viewing area upstairs.
There will be the finest food to be eaten by producers from the Sennen Farmers Market and also an opportunity to buy second hand surfing equipment including wetsuits and surfboards.
Simon Hann co-organiser continued: "This exciting family event will be a great opportunity for visitors to come to Sennen, contribute to and support a great cause and local businesses, and then go surfing at one of Cornwall's most beautiful beaches."
Surf Action was started in 2009 and uses Surfing and the Beach Environment to support Combat Veterans with mental and physical injuries. An award winning project and registered charity in the UK, Sennen surfers Rich Emerson and Russ Pierre run Surf Action that hold beach clinics for veterans and their families each Friday at Gwithian Towans, Nr Hayle.
All media enquiries please contact Russ Pierre on 07989535163 or email: [email protected]
For all information regarding attending the event as a contributor please contact: Simon Hann on 01736 811920 or email [email protected]