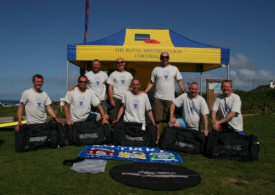 Surf Action has been selected as a finalist for the Big Lottery People's Millions awards for 2010 and needs your help to win.
Surf Action is an award winning and pioneering project that uses surfing and the beach environment to help people deal with the ongoing problems of Post Traumatic Stress Disorder (PTSD) and amputations.
Surf Action specifically works to support ex-service, serving military and blue light services, to overcome these potentially life destroying afflictions. The core aim is to put smiles on faces and from there to help direct as appropriate to other organisations which can assist in a holistic approach to healing the wounds.
The founder and Director Rich Emerson is a former member of the armed services and saw active duty in the first Gulf War. Rich subsequently suffers from PTSD, but found that the focus provided by surfing helped him make huge positive changes to his ability to manage and live with his disorder.
Surf Action has been running for just over a year and has organised several surf camps for veterans and their families and two camps specifically for amputees injured in Afghanistan.
"We are delighted to be through to this next stage and are asking people to vote for Surf Action, so we can help others overcome major issues and challenges in their lives. Winning the vote will allow us to make a huge difference to lives of people, who have given all in service of their country." Rich Emerson, Director of Surf Action
The vote will take place by phone on Thursday the 25th of November. People can vote by telephone between 9am and midnight for this one day. The number to call will only become available on the day of the vote and will be on the Surf Action website. Alternatively visit peoplesmillions.org.uk and then click on Westcountry region. To register your support and comment click on http://www.peoplesmillions.org.uk/2010-finalists/westcountry/surf-action