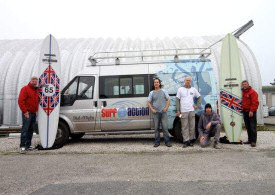 Surf Action Cornish military charity is very proud to announce a collaboration of Cornish firms that will have wider benefits in today's tough economic climate. Slide 65 Surfboards kindly agreed to donate the time and skills to create two unique longboards and Seabase then generously offered the materials and finishing skills of their team based in Newquay.
Surf Action Director Russ Pierre added, "These boards have been designed to be a focal point for promotion of each business but primarily the work we do in supporting Combat Veterans and the benefits of surfing to those with mental health problems or physical injuries".
Rob Wright from Slide 65 commented "I have embraced hand-shaping these boards for Rich and Russ to show my support, for their dedication, helping veterans find a better life through surfing."
Jennifer Macdonald says "Seabase UK is very proud to announce our support in 2012 for the Cornwall based charity 'Surf Action'. Both Surf Action and Seabase will have the strong connection of being founded and managed in Cornwall and with surfing at the very heart of both. Seabase finished the surfboards for Surf Action at its factory in Newquay and we hope that our support will assist this well worthy cause and attract even greater attention and awareness from the public."
Seabase have generously offered a large discount on all their Custom boards and accessories to all serving military personnel and veterans as part of a loyalty scheme being developed by the charity. Surf Action is working hard to attract more businesses to offer their support. Russ says "we have veterans who use art, sculpture and photography as therapy, one rebuilds old cars and others enjoy Tai Chi, we're looking for companies to sign up to our loyalty scheme or sponsor veterans to aid in re-training and personal development."
Having the RAF Waveriders club based at RAF St Mawgan and the Royal Navy Royal Marines Boardriders based at Culdrose, Surf Action shall be promoting the scheme through their clubs and clubhouses. Rich Emerson, founder of Surf Action and combat veteran himself adds, "we have just been asked to be longboard coaches for the Army Surf Team and what a better way to begin the coaching than with two great boards flying the flag. We can display these boards at our events and promote the personal well being of veterans and essentially the work we do in facilitating change and encouraging a positive future".
For more details of the loyalty scheme and companies offering discounts and if veterans or serving personnel would like to register simply go to surfaction.co.uk and register your name online to receive a loyalty card. All we ask is a small donation if you wish to do so. Alternatively email [email protected] with your details or call 01736 811920.