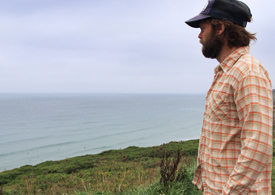 I recently caught up with the habitually calm and collected Neil Halstead for a Sunday-morning surf check.
It has been a busy and proud 18 months for Neil – the highlight being the birth of his twins last February – he signed with Brushfire Records last year, released his first album on Brushfire last August ('Oh Mighty Engine'), did four tours in the US – including one with Jack Johnson – and two tours in the UK.
So how did the Brushfire Records deal come about?
Over the years I became friends with Thomas Campbell through mutual friends in California. Thomas used a Mojave Three [another band Neal is in] track in 'Sprout', so when he toured the film up the West Coast of America, I played a set at the showings and through that I met the Malloys, including Emmett, who runs Brushfire.
And how are you finding Brushfire Records?
It's definitely a career highlight. It is really nice to be on a label where you're all friends; it's like a family at Brushfire and you don't get that with most record companies. It's great to be able to combine my music with my surfing interests too. I recorded my album at their solar-powered studio in LA, which was really interesting, and I will doing another album next year with them.
What was it like touring with Jack Johnson?
It was totally mental – we had audiences of about 25,000 people a night, which is way more than I normally play to. I really enjoyed it, plus it was great to share it all with Adam Parfait and Ben Hall, who played backing for me on the tour.
Do you get to surf much when you're on tour?
Quite often there's no time, or we're somewhere with no waves, but when I am in California I normally get in the water and we scored in New Jersey last November – perfect little barrels. I'm touring Oz in November this year for three weeks stopping at all the major cities and Byron Bay, so I am looking forward to that.
What have you been working on this summer?
I am working on a soundtrack for a film called 'Weakness', which is due to be released next year. It's a good – but small-budget – drama and the first film by theatre director Michael Melamedoff. This is the first soundtrack I've done and it has been challenging because it's a very different way to work, more of a collaboration with the director, but I have enjoyed the experience.
After all these years, are you still a 'Shoe Gazer'?
Once a shoe gazer, always a shoe gazer!