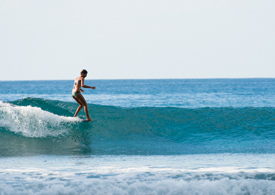 If you haven't already, check out our feature by Dane Peterson and Belinda Peterson-Baggs, 'Substituted by blue'. In association with Patagonia, they also documented their trip on film, and it's well worth a watch simply to revel in the beauty of Belinda's graceful noseriding.
We're pleased to be able to shout that the soundtrack includes contributions by the latest creative soul to join the Drift Europe collective, Friend of Mine.
Like what you see? You can view all Patagonia's films in the tin shed here.