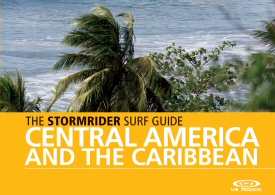 When I'm planning a trip, or since running Drift just day-dreaming about a trip, the Internet will usually suffice to make a plan. But you just can't beat a good old break guide stuck in your board bag when you're on the road. There are lots out there, but I never bother with anything other than the Low Pressure Guides. The new edition for Central America and Caribbean is well worth a look.
I don't encourage meaningless product reviews on Drift, but these boys at Low Pressure do produce some really good quality stuff. I'm sent a lot of books and pocket guides to review, and few make it into the in-tray of our editor. The pocket guides are useful, but I find there's too much in them, way too much. I don't need to know everything when I'm travelling, and if I do, I don't want to read about history, climate, seasons and locals when the book is the size of a postage stamp.
The Stormrider Guides are always well laid-out, clear and make the most of the paper size. It's not really any less portable than a pocket book, and the books always make great use of the layout. The paper stock and printing quality is always high, and the books will survive the rough and tumble of a long trip. I'm hoping to get my first overseas trip in three years together this summer, Central America beckons, and I'll be sure to chuck this latest edition in my bag.
I can't vouch for the accuracy of all of these books, but they give you the essence of what you can expect. If you're on an adventure, a trip to the end of the road, then these books will help you along the way. I've found my way around the Canaries, Africa, Mexico and some of Asia with one tucked in my bag. Some things change, but usually they are helpful and insightful to assist you with your journey.
To quote their web site: "The Stormrider Surf Guide Central America and the Caribbean takes a journey through the wave-rich deserts, jungles and tropical islands sandwiched between North and South America. This region hosts some of the most fun and funky surf spots around, breaking in bath-warm water, immersed in a kaleidoscope of cultures and backdrops. Beautifully presented maps, photos and up-to- date, reliable surf information make this Stormrider Surf Guide a must have item for any trip to Central America and the Caribbean."
If you're a bit more intrepid than booking two weeks in a surf camp, take a Stormrider Guide with you, you'll get a lot out of it.