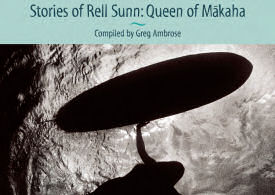 Author and surfer Greg Ambrose has collected a moving series of stories about the legendary water woman and pioneer of women's professional surfing, Rell Kapolioka'ehukai Sunn.
Sunn was renowned throughout Hawaii and many parts of the world for her skills as a lifeguard, diver, spear-fisher, and, most of all, as a top female surfer. At the heart of Rell Sunn were her spirited enthusiasm, her passion for life, and her extension of aloha to all she met.
Rell's accomplishments and experiences with all kinds of people have rendered fantastic, celebratory, melancholy, yet unforgettable stories told by those who knew Rell best: her daughter Jan, Rabbit Kekai, Bruce Jenkins, Brickwood Galuteria, Ron Mitsutani, Fred Hemmings, Kathy Terada, Bonga Perkins, Mark Cunningham, Sunny Garcia, and Jeannie Chesser among others.
More than just a water woman, Rell Sunn was also a cancer survivor. Beyond her accomplishments in the water she dedicated her time and energy to the Waianae Coast Community Health Center working with other women suffering from breast cancer. Rell is known well today for creating the Menehune Surfing Contest; the collected interviews and stories by Ambrose bear witness to the multi-faceted Renaissance woman Rell was.
This book is a real tribute to Duke Kahanamoku's female counterpart, the "Queen of Makaha." Through these memoirs, readers can now journey with the water woman, and new generations can learn about her legend. Available Pre-Order and regular sale online at www.besspress.com.