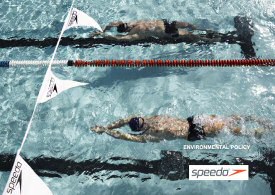 Anyone who receives the SAS magazine will have noticed Speedo's response to the Return to Offender campaign. So we gave them a call to find out what was going on.
When the postman arrived at Drift HQ last week, we were quite staggered by the revelation that Speedo's store manager had referred to Surfers Against Sewage as 'self-righteous twats'. In the interests of balanced journalism, we contacted the company to clarify what Speedo meant by that. After all, by inference, aren't Speedo calling anyone interested in the ocean environment twats? Of course not, and this simply emerged as a case of one man's views conflicting with his employer's views.
We spoke with their VP for a while, who assured us that Speedo were determined to do as much as they can, as a company, to protect the environment. Speedo actually have a reasonable environmental policy. The views of one employee are not a blanket measure of a business, so you have to feel for them to a certain extent.
The SAS campaign Return to Offender is of course not suggesting that Speedo are responsible for their customers actions, the whole point of the campaign is to keep the momentum of a message in the forefront of the public's imagination. Rooting around some of the Triathlon forums, readers seem to have misunderstood the point of the SAS campaign. Change only happens through consistent campaigning, so we're right behind Return to Offender. But we're also sympathetic to Speedo's plight – the views of one employee have marred the reputation of the entire company.
If you want to read more about the debacle, have a look at The Guardian's feature Speedo slips up and Coca-Cola wins out in beach litter campaign.
We gather Speedo are now one man short. Oops.