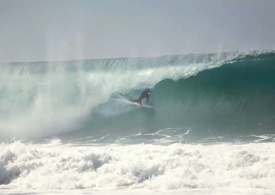 This week surfers in Southern California were treated to some unseasonably good swell courtesy of Hurricane Marie. 'Big Wednesday' saw many great sessions go down, we've collected some of the best footage here.


Good Morning Marie from Thomas Green on Vimeo.
Slow motion barrel-fest featuring Rob Machado and Jamie O'Brien amongst others.
Wave of the day at Sandspit, and more than likely wave of the month or even year for this lucky guy.
Newport Wedge provided its usual blend of carnage with some big drops and crazy wipeouts.
The first signs of the swell showed on Tuesday. Laird Hamilton amazed onlookers in Malibu, seen here shooting the pier on his SUP.