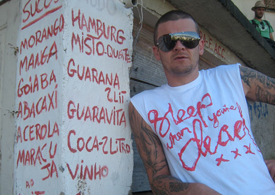 He's just completed the London marathon and in a couple of days he'll set off on a 400-mile jog, but before he goes, Matthew Pritchard is about to endure his toughest challenge yet – 10 questions on skating, MTV, and getting his Gump on for charity…
How long have you been skating?
I've been skating for 22 years now. Those years are the best times I could have asked for. I'm so glad my mother let me have a board, because I don't know what I would have done without one.
How did 'Dirty Sanchez' come about?
Where do I start…? To cut a long story short, me and Daint made a skate video called 'Pritchard vs Dainton' in 2000 and it went bananas and really took off. It was the most talked-about skate video in history and generated interest from magazines like 'Loaded' and 'FHM', and the Channel 4 TV show 'Passengers'. A TV talent scout rang me at my office when I was working for Globe shoes and asked me and Daint to come in for an interview. Two interviews later, myself, Daint, Pancho and Joyce had signed a contract to film one series of 'Dirty Sanchez' for MTV. In 10 years we've made three series of 'Dirty Sanchez', as well as a film, plus myself and Daint had a show called 'Wrecked' and another called 'Sanchez Gets High'.
'Sanchez' is the only UK production for MTV to go worldwide – we've been broadcast in 64 countries to over 450 million people.
You're pretty inked up. What was your first tattoo and which is your latest?
[laughs] My first tattoo was at some dodgy tattoo shop in Newport at 9am after three cans of Stella… There was a load of us on a trip to St Albans skate comp and we were meeting at Freestyle skate shop in Newport. While I was waiting for everyone to turn up I decided to go and have WALES tattooed on the top of my arm.
That was just the start, and now I've got a whole body full of them. My latest is a huge koi carp that goes right across my back, done by Rob from Addictive Inks in Swansea. I decided to have it all done in one go and it was complete agony. It was the most painful tattoo I've ever had, but five-and-a-half hours later I saw it in the mirror and it was well worth the trauma.
Which actor/celeb would play you in a movie about your life and what songs would feature on the soundtrack?
That's a good question. It would have to be Rhys Ifans for a few reasons: 1) He's Welsh 2) He's a great actor 3) He's a caner 4) I've partied with him a few times so he sort of knows what kind of person I am anyway.
As for the songs, it would be a mixture of heavy metal, rock and banging hard house, because I was introduced to that kind of music at various stages throughout my life. The hard house stage got quite exciting, let me tell you…
How are you since the stabbing?
I can't talk about it publicly at the moment because it's still ongoing in court, but I can tell you that I've made a good recovery. It's thanks to great doctors and nurses that my scars aren't as bad as they should be.
If anything, the experience has made me look at life in a totally different way. I lived life to the full anyway, but now I'm really having it but in many different ways, and it's exiting.
What's the John O'Groats run all about?
My mate Matthew Ryan said he was running John O'Groats to Land's End to raise money for a little girl called Elodie and he knew I liked running so asked if I'd like to join him. Elodie needs a £40,000 operation in the United States to help her walk normally for the first time. You can find out more and make a donation here.
I've always set myself stupid challenges, so when this opportunity came up I jumped at the chance. I've always wanted to do the whole John O'Groats to Land's End thing, but I've been too busy. Daint was on about the two of us cycling it, but in my head it seemed a little too easy for me – I wanted to push my boundaries, I wanted to feel the pain and I wanted to see if I could mentally and physically run 900 miles because to me when you've gone through all that hell the finish line feels so much better. The training for it has been crazy, but I've enjoyed every minute of it. Matt and I have been running on average 50/60 miles a week, and a few times I've come very close to injury, which could have put a stop to the whole thing. Twenty-two years of skateboarding doesn't help with the knees either [laughs].
Where can people contribute and check up on your progress?
For a minute-by-minute update follow me on Twitter. I'll be twitting all the time. I'll be writing a daily blog too.
To contribute go to www.elodieappeal.co.uk.
Will there ever be a winner of 'Pritchard vs Dainton'?
[laughs] NOPE! I doubt it very much. He messes with me then I have to mess with him; end of story. It's been like that from the start and long may it continue. Who knows, maybe one day someone will win. You can find a list of our live shows at www.pritchardvsdainton.co.uk and www.swyd.co.uk.
What's next for you?
There are so many things I want to do in the future. I would love to do a load more feats of endurance for definite, but at the moment my main aim is getting S.W.Y.D. [Sleep When You're Dead] clothing and parties up and running. S.W.Y.D. is something I've been meaning to do for so many years and it's only now that I'm finally sorting it out. Me and Daint have quite a few things up our sleeves as far as shows go, but all will be revealed soon. We have our own production company now, Sleep When You're Dead Productions, which we'll be knocking out the 'Pritchard vs Dainton Rise & Falls' doco on. It'll be hitting the shelves within the next four months. Keep your eyes peeled really, there's more fun to come.
Any shout outs, thank yous etc?
Shouts out to all my fans, you are belters. Shouts out to Daint, Panch and Joyce. And a massive shout out to all who helped me get to where I am today – thanks very much!