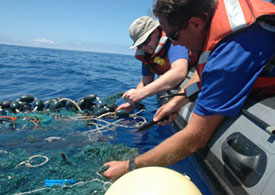 10 days ago Scientists returned home to San Diego after a journey into the vast and little-explored "Great Pacific Ocean Garbage Patch".
This disgusting region of the ocean acts as a dustpan for plastic debris swept up by the Pacific Ocean currents.
The Scripps Environmental Accumulation of Plastic Expedition (SEAPLEX) left San Diego and travelled for six days to reach the densest regions of plastic accumulation, 1000 miles from land. There began 24-hour sampling, using tow nets to collect debris at a range of ocean depths.
Debris
Half-way through their trip the researchers discovered a large net entwined with plastic and marine animals. They also found plastic bottles containing a variety of biological inhabitants.
Most of the debris comprises tiny particles too small to see: plastic does not biodegrade into harmless particles; it's broken down by sunlight into ever smaller pieces until it reaches a molecular level. Once it has disintegrated it enters the food chain of the local wildlife.
The scientists on this expedition were the first people to see the true scale of the nasty mess. "Finding so much plastic there was shocking," said Miriam Goldstein, chief scientist, "How could there be this much plastic floating in a random patch of ocean — a thousand miles from land?".
What can we do?
80% of the plastic pollution comes from the land. Some of it might come from big industrial polluters, but nevertheless it's important we all do our bit. I've started to pick up a few pieces of litter after a surf session, and now I'm going to go one step further and start sending plastic I find on the beach back to the manufacturer using the Surfers Against Sewage 'return to offender' campaign, urging them to use less harmful packaging so products can biodegrade without putting wildlife at risk.