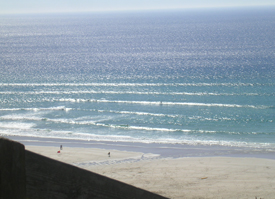 Thank God for summer. The boots are off, the sun is out and, over the last month at least, the surf has been firing. The hot weather has resuscitated Cornwall, bringing tourists to our coastline and with it an increasingly crowded line-up of rapidly bleaching hair and tanning faces.
Whether its holidaying families bellyboarding in the shallows, weekend warriors eager to cram every available wave in to their 48 hour break, or locals who've done their winter penance for a taste of warm water and sunshine, everyone on the beach is here for one thing – to enjoy the water and soak up the rays. The scent of Ambre Solaire and Hawaiian Tropic hangs heavy in the air, a chemical juxtaposition matched only by the whited-out noses and cheeks of the cautious few.
My own lackadaisical attitude has left me typing this with skin that's more than a little painful to touch but with reddened cheeks has come a curiosity about sun tan lotion that needs sating. Sure it has a positive effect on our skin, staving off the burn and protecting us from the threat of skin cancer, but what about its effect on the environment?
In the UK, £146 million is spent on sun cream each year and with over half a million surfers in the UK – not to mention the millions of other beach goers splashing about in the shallows – that's a hell of a lot of the white stuff washing off in our waves. And it's taking its toll. A study in California, where bare-skinned surfers populate the ocean day in day out, found that two thirds of male turbot and sole off the coast of Huntingdon Beach were growing ovary tissue in their testes. The only culprit The University of California scientists could 'exclusively identify' was oxybenzone, a chemical used to protect the skin from the ultraviolet component of sunlight. That's right folks; the stuff we apply liberally before paddling out can have gender bending effects on fish.
What's more, recent Swiss research shows that other ingredients found in sunscreen and lip balm – octocrylene and 4-methylbenzylidene camphor – build up alarmingly in fish and could have similar sex changing effects. On top of that a new study commissioned by the European Commission found that seven of the 20 compounds which act as UV filters in sunscreen have negative effects on coral, bleaching and destroying the organism, in fact in some parts of the world, wearing the chemical loaded lotion is banned altogether.
However, with 100,000 new cases of skin cancer diagnosed in Britain each year and the risk of burning so much higher if you're hanging out in the water for hours on end, giving sun tan lotion a miss for the sake of the fish is certainly not an option.
Luckily, there's a solution. Seven years ago scientists at the Plymouth Marine Laboratory started working on a project with Boots Company PLC looking at a potential natural sources of sun protection, from tiny floating plants, or phytoplankton. Other companies started looking into using natural mineral titanium dioxide and since then a whole range of natural sunscreens have come onto the market which don't allow damage to the environment, or your skin.
To help you decide which product is best for The Environmental Working Group has developed a database where you can see the effect that your brand of choice has on your skin and surroundings.
Sitting here weighing up the pleasure of a prospective after work wave against the red raw pain of my feet I've certainly learned my lesson, but seeing as  I don't want a  slew of transgender sole on my conscience it's all natural all the way for me, from now on. Bring on the algae…