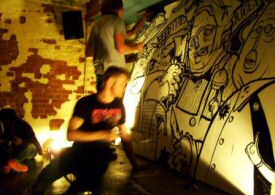 Promoter and Founder, Terry Guy, compares it to the Championships League, but for Art. Imagine the plastic seats and confines of a stadium where the penchant for wearing cloned coloured tops with numbers is replaced with gritty, interesting architecture and imaginative yet co-ordinated couture and you are one step closer to experiencing one side of a Secret War. Photos: Louis du Mont
The steps lead down to the basement where, above the upstairs din of The Book Club in London, the stillness of a solitary pool table greets me. The aged, dank scent of exposed brick sends me visions of Fight Club nights. Deep red velvet curtains disguise the cool metal shutter that separates me from the low rise, darkened room where Secret Wars will soon begin. Propped against the distant wall, two stark white canvasses stare back at me. This is where the jet black ink of tonight's contenders, London and Hamburg, will be spilt…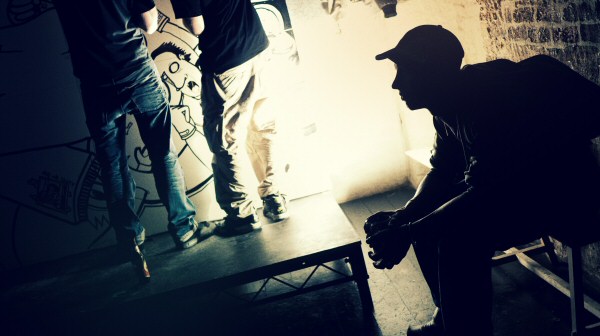 How does Secret Wars work? Terry tells me that each country in the league has a team of six. At each battle three artists are designated the challenge of collaboratively creating a piece of live art against the host country. Battles occur the year round, away games receive bonus scores, there are 90 minutes on the clock and the only tool available is a black marker pen. "It's a great opportunity to meet new artists, new people like you […blush], have fun and get drunk", says the quietly confident Terry, eager to get back to schmoozing in the VIP area. I am not letting him go that easily.
So what is in it for the artists? They get Casio watches and Reeboks and travel the world for free.
And the success of Secret Wars relies on sponsorship in much the same way as, say, surfing? Yes, in fact our sponsors are here tonight.
I wonder if they travel to cities with clean beaches, nice breaks and guaranteed swell. Hmm, might be an opening for creative surfers…
How is a winner decided in each league match? We have three judges who vote for their favourite art work. Then we have an audience vote which is recorded with a decibel reader.
What do the Secret Wars champions get? Five days in New York, a one day battle followed by four days holiday.
The artists steal into the room and take centre stage as they greet each other with brotherly camaraderie. The England World Cup match has sent a contemplative mood into the room having stolen the large audiences that Secret Wars claims it attracts. The artists and the handful of punters resign themselves to the edges of the room. I begin to wonder whether Secret Wars will ever receive the same status as football, in Terry's vision of it becoming a recognised sport.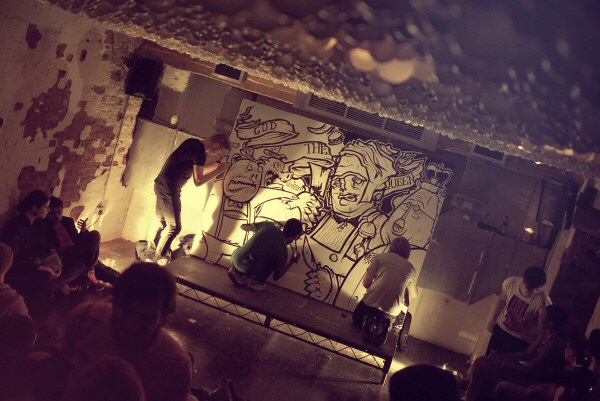 I take the opportunity to speak to a few of the artists and like Terry, RIFF a.k.a Anthony, is also doing this for fun, "It makes me feel good when people come up to me and say they like my work". Riff joined the London crew recently. He turned up at a battle in which the London team were a member down. Riff offered to step in and a week later he was offered a place on the team.
Was it serendipity, a leap of faith, a strategic move? "For someone who graduated a year ago, I think I am doing pretty well", says Riff and from the look of contentment on this young mans face, I know he is.
Mr. Gauky, as those around him regularly refer to him, "except my mum", is not so content. He is eager for the room to fill up and seems worried about the reception that the Hamburg team is getting. "Hamburg was great. We had a coach to take us to the venue, the venue was packed and they had shots for us when we arrived. I got very drunk", says the guilty looking Mr Gauky who slips me a sticker printed with the words "I like getting drunk: free Mr Gauky." The sweet Mr. Gauky tells me that the rumour purposely attached to the sticker is that a drunken Mr. Gauky lost his passport in Hamburg and cannot return to London.
The ethereal sounds of 'Smile Happy' by War bring smiles to the faces of a sudden crowd that flows in like a biblical river. I am glad to see the relief on the London artists' faces. Hoxton fashionista's, lipstick ladies with rouged cheeks, guys in low-riding pants and baseball caps turned to the side, sneakers and tight jeans – I feel as if I have stepped into a time warp trapped between now and the 80's.
London and Hamburg step up to their respective canvass, pen lids off and pens poised like daggers in a knife fight. Separated by a wall with the largest peephole I have ever seen, the audience perch wherever there is room. The battle begins to the memorable first bars of classic 80's track: Cameo's Candy.
The next 90 minutes are indescribable. The audience is transfixed with heads turning from one canvass to the other. From the get go Hamburg seem to be a team that continues to negotiate and plot. They draw faint, thin lines that reveal a team that is careful yet their strokes cover the canvass quickly.
London's artists simply get on with it. There is no discussion in the early stages and their confidence is obvious from the thickness and precision of the lines. I wonder if it has anything to do with the forward planning that Riff mentioned his team do in preparation.
The music elevates the building tension and snippets of audience conversation overheard reveal a curiosity about what it is these artists are saying. It is evident that these are not just artists in the usual sense of the word. Drip fed like a countdown conundrum both teams draw banners, adding one word at a time they are artful in teasing and gripping the crowd until, finally, they spell out themes that reject and poke fun at society's values and structures: "God Feed the Queen" and "Fuck Football".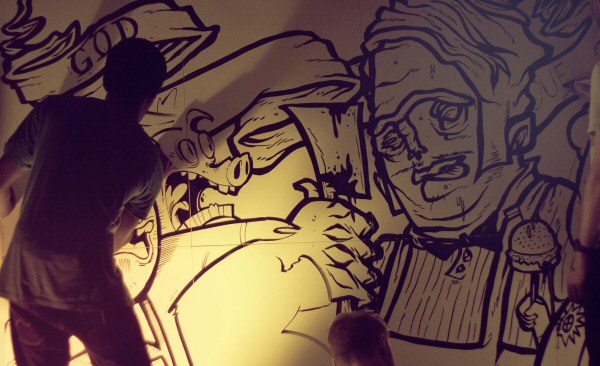 The crowd's body language and movements steer towards London's creation as the pieces come together and I can see why – it is purposeful, it is skilful and it is consistent. With three judge votes to London and a crowd screaming their heads off to 100+ decibels, there is no contention over who the winners are – the Queen wins over Football.
Secret Wars may seem to have come in at second place to football tonight but it clearly won on expression. The classic graffiti vibe of hip hop, R&B and beat box has migrated naturally into Secret Wars but to the artists this is simply Art.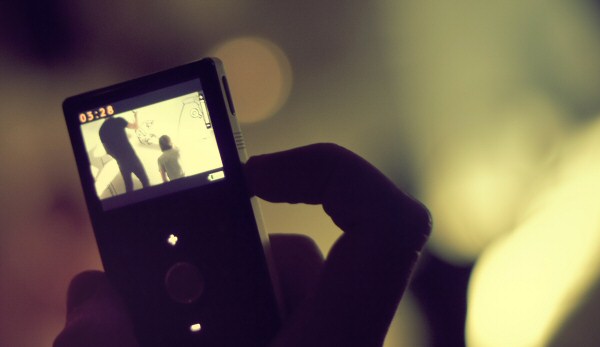 The burgeoning following and three years of battles under its belt prove Secret Wars' potential to be recognised as the underground sport that it is. There is no reason for it not to blow out of the water in much the same way that surfing boomed into mainstream popularity in Europe in the past decade. I applaud Secret Wars for creating an option for talented artists to gain exposure for their work.
For a Secret War near you, scope the basements or abandoned meat factories in your neighbourhood – there is bound to be something going on. If not, Secret Wars are open to proposals on new battle grounds and new teams, so why not make your artists journey an interesting one.
Clare J Hughes is a playwright and life goal designer who loves art, music, surfing and life.