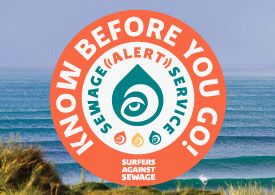 Surfers Against Sewage release innovative nationwide sewage pollution warning service.


Today Surfers Against Sewage (SAS) launches a new water quality app, the Sewage Alert Service. The app is the first and only national service to inform beach users, in real time, when untreated human sewage and storm-water is being discharged at almost 250 of the nation's favourite beaches. This vital information allows beach users to make an informed decision about how, when and where they use the sea before potentially coming into contact with harmful pathogens. The public can download the Sewage Alert Service for free at www.sas.org.uk to help them enjoy the cleanest and safest beach experience at any of the participating locations.
Over recent years, SAS has become increasingly concerned at the rising number of sewage spills occurring at UK beaches and surf spots during the bathing season (May – September). In response, SAS has developed the Sewage Alert Service, accessing the most up-to-date real-time information from water companies on the combined sewer overflows causing short-term pollution incidents that could threaten public health.
With falling numbers of beaches achieving the very best water quality standards and the imminent implementation of the more stringent European Bathing Water Directive, the Sewage Alert Service is a vital new tool to help inform and protect the public, allowing beach users to have the very best and safest experience possible.
Following SAS's pilot for the Sewage Alert Service, a survey conducted by the Department for the Environment, Food and Rural Affairs (Defra) concluded that;
94% of people who received information about a short term spill changed their behaviour and took action to avoid contact with the reported spill.
87% of people accessed information about sewage spills from SAS before they got to the beach.
And when at the beach, 69% of beach users who were warned, were warned by SAS's texts, and 23% by the SAS's website.
87% of beach users want information on these events and find them useful.
(591 people answered this Defra questionnaire)
The new Sewage Alert Service also informs you about other sources of pollution, such as diffuse pollution and sanitary related debris. The app also offers users helpful advice on actions they can take to help reduce these pollution incidents and report them to the relevant authority, including;
When a combined sewer overflow (CSO) is discharging untreated human sewage and storm water too frequently, the app invites users to send a "Must Try Harder!" messages to the water company responsible.
When the app user witnesses a pollution incident they are encouraged to report the incident via the Environment Agency's pollution hotline (0800 80 70 60).
App users are encouraged to complete sickness reporting forms, providing vital details to SAS of any illnesses contracted from polluted waters.
The Think Before You Flush app pages explain how to responsibly dispose of sanitary items to help reduce sewer blockages and pollution incidents.
The Protect Our Beaches, Don't Pour Fats, Oils & Greases app page explains how small changes in the kitchen can result in big improvements in sewer performances and environmental improvements for the beach.
The app also contains even more details on your favourite beaches, including links to the best surf reports from Magic Seaweed and the Environment Agency's full bathing water profiles. The app is supported by the Environment Agency and Firetext.
Water Minister, Richard Benyon MP said:
This innovative app will make it much easier for people to find real time information on water quality and to make well informed choices about where to swim. Improving bathing water quality is a priority for Defra and we are continuing to work closely with the Environment Agency to improve the nation's beaches.
British & International Champion surfer Ben Skinner says:
The Sewage Alert Service is a great app. Water users deserve to know when sewage is spilling into the sea. Nobody wants to unwittingly surf in sewage because the health risks range from the uncomfortable ear nose and throat infections to much more serious health risks, and that's why I use the Sewage Alert Service app to help me choose where to surf and you should too.
Surfers Against Sewage Campaign Director, Andy Cummins says:
The Sewage Alert Service app informs surfers and beach users of a short term sewage discharge in real time. This truly is an innovative concept achieved thanks to years of campaigning against secretive CSO sewage discharges from water companies. Now surfers and water users are best place to make informed decisions about how, when and where they use the sea.