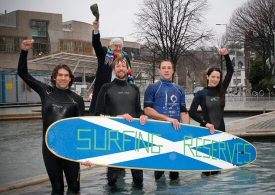 Surfers Against Sewage (SAS) campaigners are amplifying the voice of Scottish recreational water users and pushing for their inclusion within the Scottish Marine Bill.
SAS campaigners will be outside the Scottish Parliament in their wetsuits with surfboards, bodyboards, windsurf sails, kayaks and kite surfing boards, armed with loud speakers, highlighting a diverse and significant stakeholder that deserves a designated seat within the proposed Regional Planning Partnerships debated within stage 3 of the Marine Bill today.
SAS estimate there are over 300,000 recreational water users using Scotland's beautiful marine environment. This equates to 6% of Scotland's population, and is a significant marine stakeholder, currently seriously underrepresented.
Robin Harper, Scottish Green Party MSP for the Lothians has submitted an amendment that could ensure the inclusion of recreational water users within the Marine Bill's Regional Planning Partnerships. SAS are supporting Mr Harper's amendment, as are Scottish Renewables and the Scottish Environmental Link.
The Scottish Marine Bill is nearing the end of stage 3 and this could be the last chance to ensure Scottish recreational water users are given a voice at the appropriate level and on the proper platform to ensure their concerns are addressed.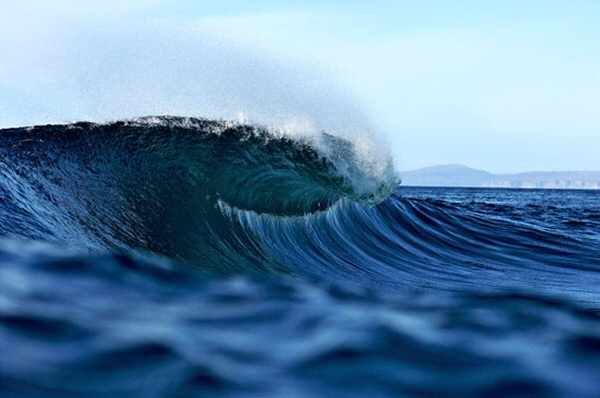 The Crown Estate is rightly steering the offshore renewable industry to Scotland as there is an abundance of offshore energy that can help Scotland, and the UK reduce our carbon emission and help secure future energy demands. SAS has consistently supported offshore renewable energy and will continue to do so. Deploying offshore and near shore developments in the right place can avoid potentially detrimental impacts on Scotland's select world-class surf spots and recreational water sports.
SAS fully support Scotland's strong commitments to sustainable development and ambitious carbon reduction targets. The Scottish coast is important to a myriad of stakeholders and the Marine Bill offers the unique opportunity to ensure that all these stakeholders are represented and protected. Ensuring recreational waters users are specifically including in Regional Planning Partnerships is vital.
SAS Campaign Director, Andy Cummins says: "It is vital that recreational water user's voice is heard and we are given a seat within the Regional Planning Partnerships. We are a significant stakeholder in the marine environment, already acting as guardians of the marine environment and our knowledge, passion, presence and perception would help protect Scottish waters for generations to come."
Robin Harper MSP added: "Regional Planning Partnerships will play a vital role in the management of our marine environment, yet the Marine Bill in its current form makes little or no mention of what these bodies might look like or who might sit on them. We must ensure that these partnerships are properly representative of the many different groups and communities that use our seas, not dominated by narrow interests and the usual suspects.
"There is a real opportunity here for local communities and recreational water users to have their say in the use and development of Scotland's coastal and near-shore environment. I hope all MSPs from other parties will join me in taking the opportunity to vote for this key amendment on Thursday."