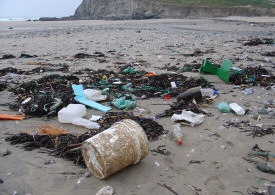 The annual SAS Big Spring Beach Clean has been removing marine litter from UK beaches for many years with the help of community volunteers. SAS are today calling on the coastal communities across the UK to join them for the SAS Big Spring Beach Clean at beaches nationwide on 24th & 25th March to help make this year's event the biggest ever.
Spring time sadly reveals the true severity of the marine litter issue. After a long winter of storms, before local council beach cleaning operations begin for the summer season, the accumulation of litter can often seem at its worst. The amount of marine litter found on UK beaches has almost doubled in the last fifteen years, with with a shocking 1,969 litter items found on every kilometre of coastline*. Typical examples of marine litter include rubbish from beach users, sewage-related debris, waste from commercial shipping, nets and fish boxes from fishing vessels and medical waste.
SAS Big Spring Beach Clean events will be led by SAS Regional Reps with confirmed locations including in Cornwall, Devon, Wales, Scotland, Dorset, the South Coast and the North East. Please log on to www.sas.org.uk to view beach clean locations and full details.
The SAS Big Spring Beach Clean helps tackle the growing problem of marine litter with the help of regional reps, supporters, SAS members and coastal community volunteers. This year SAS is encouraging dedicated volunteers to organise their own beach clean events, offering support and equipment to help empower communities to take positive action to protect local beaches, surf spots and waterways.
SAS Big Spring Beach Clean events also confront the worsening marine litter crisis through the promotion of SAS initiatives such as No Butts on the Beach, Return To Offender and Think Before You Flush. These encourage further individual and corporate action once the beach clean has finished ultimately helping reduce the amount of litter finding its way onto the beach can into the sea.
Hugo Tagholm, SAS Executive Director says: "Over the past few years SAS has seen a dramatic rise in the number of community volunteers getting involved with our beach clean programmes. Communities want to play their part in tackling the marine litter crisis affecting beautiful beaches everywhere, a visible indicator of the ecological disaster happening in our oceans. The SAS Big Spring Beach Clean empowers communities and educates the public on making an on-going positive difference to coastlines".
The Big Spring Beach Clean will take place between 11am and 2pm on 24th & 25th March 2012, so get ready to roll up your sleeves for UK beaches. For more information on confirmed locations or to register your event please contact Steve Hagan on 01872 555 950 or email [email protected]