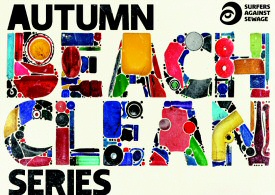 Surfers Against Sewage is calling for community volunteers to get involved with the Autumn Beach Clean Series at some of the UK's most treasured surf spots and beaches.
SAS is delighted to be working with The Crown Estate to deliver an ambitious nationwide series of community beach clean events this autumn. The Autumn Beach Clean Series will include events in England, Wales, Northern Ireland and Scotland, taking place from September to November. SAS beach clean and education events are a fun and proactive way of mobilising coastal communities, surfers, water sports enthusiasts and environmentalists to tackle the dramatically escalating problem of marine litter impacting UK beaches & surf spots. They are also a very effective platform to help individuals understand how they can best help protect our precious beaches and coastlines on a day-to-day basis.
Autumn Beach Clean Series Dates:
Sept 8th Llantwit Major
Sept 9th Tenby
Sept 9th Hells Mouth
Sept 22nd Boscombe
Sept 23rd Brighton
Sept 23rd Grange Chine, IoW
Oct 5th Castlerock
Oct 6th Portballintrae
Oct 7th Portstewart Strand
Oct 20th Pease Bay
Oct 20th Coldingham Bay
Oct 21st Pease Bay
Oct 27th Macrihannish
Nov 10th Whitburn
Nov 11th Saltburn (South)
Nov 11th Lowestoft
Nov 17th Saunton
Nov 17th Woolacombe
Nov 18th Sidmouth (East)
Events will run from 11am – 1pm unless otherwise stated. To register for an event please email us or call 01872 555953.
Hugo Tagholm, Executive Director of SAS says: "After the success of the North Devon Beach Clean Series in 2011, we are delighted to be working with The Crown Estate once again on the Autumn Beach Clean Series. Their support is helping us reach out to coastal communities across the UK to encourage people to get involved with protecting our precious beaches and marine environments from marine litter. "
The Crown Estate combine its commercial imperative with an equally firm commitment to integrity and stewardship, part of which involves facilitating the development of marine renewables on their marine estate, providing funds for scientific research and backing community projects that promote responsible management of the marine estate.
Fiona Wynne, Stewardship Manager at The Crown Estate says: "We are pleased to support Surfers Against Sewage in their efforts to assist the community in protecting their environment and removing litter from our fantastic and unique coastline. We hope that through these events individuals will not only have a greater opportunity to play a part in protecting their favourite beaches, but also gain an understanding of how The Crown Estate is working to deliver a sustainable future for UK coastlines and coastal communities."
The marine litter crisis has seen an alarming 100% increase in the amount of man-made items washing upon our coastline over the last 20 years**. The majority of marine litter consists of plastic items such as drinks bottles, carrier bags, fishing line and sewage-related debris. Plastics can take hundreds of years to degrade in the marine environment, causing significant harm to marine life, ecosystems and compromising the enjoyment and experiences of coastal visitors everywhere. SAS believes that with almost 40% of litter found along our coastlines coming directly from public sources, the power to reduce the tide of trash is very much in our own hands.
SAS's rapidly expanding programme of beach clean events help remove marine litter directly from the environment, raise public awareness, and complement longer term initiatives that aim to tackle marine litter at source including Return To Offender, Break the Bag Habit, Think Before You Flush and No Butts on the Beach.