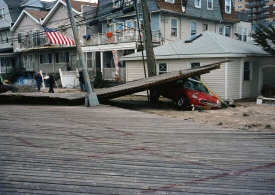 As most of you know, Superstorm Sandy hit New York just over one week ago. During the storm, one of WAX's regular contributors, photographer Rob Kulisek, suffered substantial flooding to his apartment and studio, where he housed all his equipment. Almost all of it was lost.
To help offset the cost of recovery, they're selling limited edition prints of his Study of Waves. Each 11 × 14 inch print was hand-printed in blue ink on a risograph machine and can be purchased for $50, at store.readwax.com. One hundred percent of the purchase price will go directly to the artist.
The real damage caused by the powerful storm surge is only now beginning to be known. The communities affected by this storm will need aid for weeks to come. Visit WAX or Facebook page for a list of ways you can help, or reach out at [email protected] for more information.
In addition, visit their gallery of images, we took thirty-six hours after the storm up on our website.
Photographs by Carey Denniston.