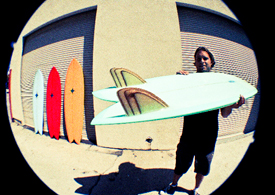 The idea of getting a shaper from California to Portugal is nothing new – previously I've collaborated with other factories to get the likes of DJ Kane, Jeff McCallum and Malcolm Campbell over to Europe – but I've never sorted one out on my own. Until now!
Last summer I started talking to Josh Hall about getting him over here for a visit. He was planning a trip to Spain to visit some friends and could stop by Portugal to shape some boards. My work at the Wavegliders factory was going well, so I had a place for him to shape and a good glasser to finish the job. Everything seemed to be in place.
As time went by, we kept talking about it, but we didn't really get anything fixed up until September. Then Josh emailed to say that he was ready to roll, and would be arriving in November for a trip that would take him through France, Spain and Portugal – fantastic!
There was a lot of work to be done. First thing was to get a price list; not an easy task, because I wanted to make sure that – even though they're 100% hand-made custom boards – they were still affordable to your average surfer. Next I needed to price up blanks, cloth, resin, pigments etc and work out how much Nico wanted for glassing them. After a few busy days on the phone and e-mail, everything was set.
On 22 September the word was out. Press releases were sent all over the web, and I've lost count of the number of e-mails I sent during those first few weeks of promotion. Josh Hall is already a big name in the US, but around here he's still new to most of the people. A lot of time was spent on promotion, talking about him, writing about him, getting his name out there.
As orders start to roll in we had to order the right blanks, fins and pigments for to customer's order – which isn't always easy!
Josh's trip started in France, where he shaped some stunning boards, and he's now on the way to Spain where he will stop off at the Santander Surf Film Festival. At the end of the week he will arrive in Portugal and we will finally meet; then a new journey will start.
You can follow Josh's shaping tour of Portugal at magic-quiver.blogspot.com