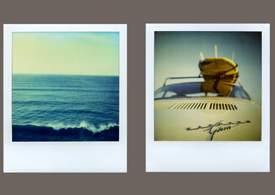 If you're down in Cornwall, pop into to one of the Driftwood galleries for a shot of ocean-inspired artwork…
They're in Truro, Padstow and Newquay, and there's even a Devon outpost in Ilfracombe. Timeless classics by the dons of surf art like Albe Falzon, John Severson and George Greenough nestle alongside contemporary pieces by Thomas Campbell and Harry Daily. Local talent isn't overlooked either, with Sam Walsh, Andy Pearce and Robert Reader among the artists represented on Driftwood's walls.
We recently stumbled across Robert Reader's Polaroid photo project – his prints are on show at the Newquay Driftwood gallery. From the man himself: "Much of my personal work utilises polaroid film, capturing surf life and culture on instant film before Polaroid disappears forever. I'm drawn to its unique colour values and washed-out hues – the almost sun-bleached photographs have an instant patina. I shoot mainly with an early 70s Polaroid sx-70 folding camera, which causes interest wherever I am, especially going through the airport security! The film that most of the images appear on is now extinct, so each shot becomes even more nerve-racking as I wait for the chemicals to work their magic. Polaroid photography has a commonality with surfing, like each wave it is a one off, idiosyncratic and unrepeatable."
Check out more of Robert's work at www.robertreader.com, where you can also purchased beautifully framed prints direct from the artist himself.
[imagebrowser id=27]