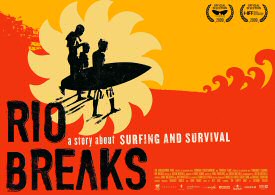 Can you surf your way out of a slum? Shannon Denny quizzes first-time filmmaker Vince Medeiros on the making of the documentary Rio Breaks.
Get off the beaten track on a surf trip abroad and there's no telling what you might find. The reward for indulging your curiosity might be uncovering an empty, pristine secret spot. If you're Vince Medeiros though, you might instead discover a secret world – right in the middle of Rio de Janeiro, one of South America's biggest cities.
"In '02 I went down to cover the CT, which took place at Barra and Arpoador," says the former Surfing magazine staffer. "I just came across these guys on the beach. They were surfing with 20-year-old surfboards that had obviously been snapped right in the middle and had been fixed. They were black as well, and the archetypal surfer in Brazil is a white dude or someone of European descent."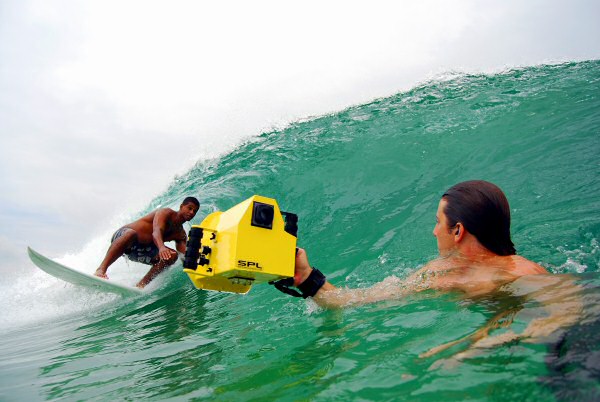 The sight made an impression, contrasting starkly with the slickly produced ASP circus that Vince had been reporting on. It turned out the surfers were from the Favela Surf Club, a group of boardriders whose HQ could be found in the heart of Rio's vast slums. A few days later, he and a photographer – who knew about the surf club too – escaped the competition and ascended the steps leading to the lawless netherworld of Brazil's famous party city.
Up here in the hills, organised crime rules the roost. The vertical shantytowns are held hostage by the drug trade, while rival gangs vie for authority with huge arsenals of firearms. Of Rio's population of 7 million, about 2 million live in favelas. And of this number, a very tiny handful slides upon the ocean at Arpoador Beach, where the waves have a habit of washing your troubles away.
The result of his initial visit to a surf club in this most unlikely corner of a teeming South American city was an arresting story that appeared in both Surfing and The Surfer's Path. With its combination of social issues and surf, Vince's feature caught the eye of LA-based documentary director Justin Mitchell. Soon the pair found themselves on a five-year journey that culminated with the release last year of their film, Rio Breaks.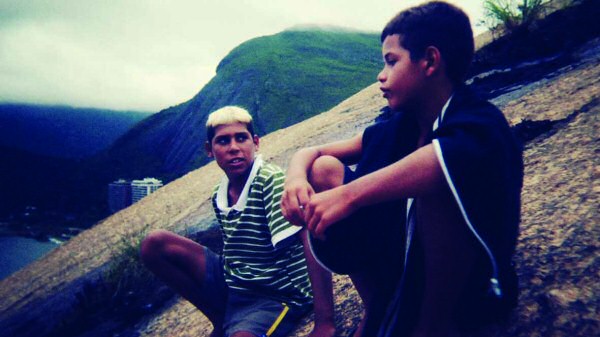 Rio Breaks follows 13-year-old Fabio and 12-year-old Naama, two best friends whose involvement in the surf club offers them an alternative future to the one mapped out by the drug lords of their neighbourhood. "For these kids, being in the water is being away from the favela, away from poverty, away from violence, away from discrimination," says Vince. "It's a place that's fundamentally democratic, it's a place that allows you to be free."
So can surfing offer salvation? The real strength of Rio Breaks is that it lets the protagonists speak for themselves. Documentaries have the tendency to spoon-feed platitudes, but this film never patronises its subjects or its audience. Instead, the footage reflects stretches of unscripted dialogue so universal that anyone who has ever been a child can relate. Stolen scraps of the boys' conversations – about helicopters, dropping in, marbles, kites – reinforce the youthful naivety of these pre-teen kids against a very grown-up backdrop of poverty and violence.
Justin and Vince's method was to sit back and observe rather than drive an agenda, making Rio Breaks unusual among surf films in particular and modern documentaries in general. Hoping that a coherent story emerges from years of gentle observation can be a risky strategy, but in their case it paid off. "There's a lot easier ways of making a documentary for sure!" laughs Vince. "How do you create a narrative out of all these disparate bits of life?"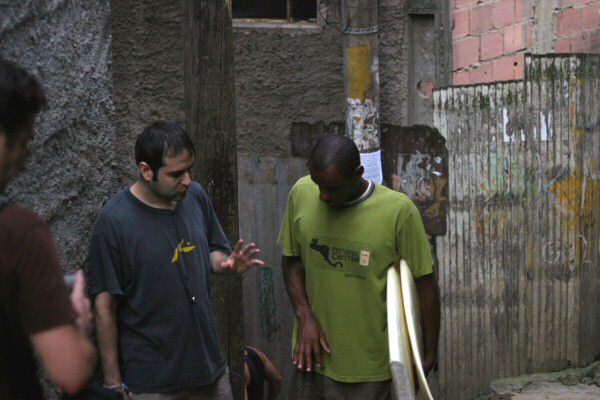 Their hands-off approach was critical "to keep the integrity of the film intact", Vince explains, but it was still an enormous challenge – especially when the boys asked the filmmakers to take them home with them so they wouldn't have to return to the favela. "There were heartbreaking moments like that quite often."
But for all their restraint during its making, the launch of the film itself has drastically altered the lives of the surf club's members. Earlier this year Luciano Huck, Brazil's answer to Oprah, watched the documentary and was inspired into action. His 12 million weekly viewers tuned in to watch as he bought a house and moved Naama's family out of the favela, flew the boy to Hawaii so he could surf with Kelly Slater and refurbished the surf club into a true sporting and social hub for the community.
"That's radical. That is the most rewarding thing about the film, and I don't think anything that happens form now on is ever going to beat that," Vince affirms. Rio Breaks has been aired on the Sundance Channel in the US, and has appeared at festivals in Rio, Hawaii, Japan and the UK. The filmmakers have also set up a foundation so money from the movie goes back to the club in Brazil.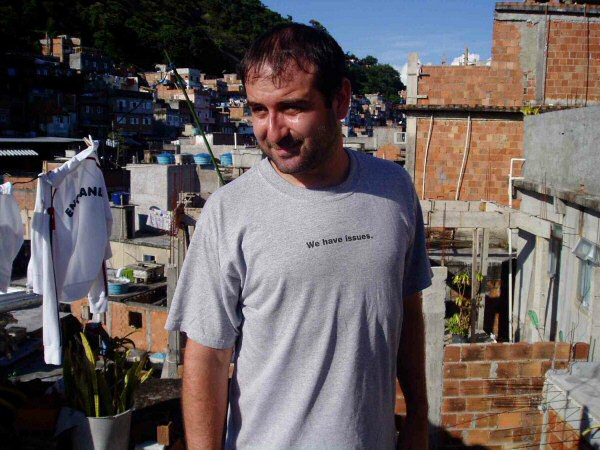 All this goes to show that navigating your way out of the favela is no easy task. It's a lesson Vince learned first-hand when, during the making of the film, he found himself separated from the pack and chased down by a guy in a grenade belt working in the drug trade. "It feels like miles away from the safety of the beach. It's not that far, but it's a maze isn't it? I mean, you won't find your way out on your own."
Rio Breaks will be screened at the Amsel Surfilm Festibal in San Sebastián on 10 June.
Also check out facebook.com/RIOBREAKS and riobreaks.com.