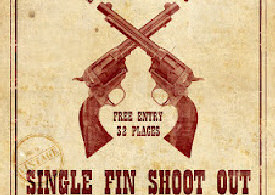 On the 4th of June Revolver will be holding the first annual Vintage single fin shoot-out. It's a surf competition with a difference, it is free to enter and there are no prizes.
The winner will however walk away with a hand made trophy from Seed Surf Co, the rest of the contestants will off course all be winners as they will get to surf their vintage single fins and hang out at Little Fistral with other vintage surfboard owners and riders. The contest is open to anybody but limited to 32 competitors as it will be held over the small low tide window at Little Fistral. The contest will start at 10.00am sharp so if you are not an early bird request a later heat. Competitors will need to bring and ride a vintage single fin of their choice and will be judged on how well they ride their vehicle true to its age. This is very important. Lines, style and positioning will count along with the overall ride.
There are still a few places left. They will also be taking names as reserves should people not turn up. If your'e not on it and you want to be, make sure you contact Revolver.
1 Russell Mullins.
2 Toby Ray.
3 Dan Crockett.
4 Jimbo Bennett.
5 Stu Leithead.
6 Marcus Lacelles.
7 Griska Roberts.
8 Jamie the Hairdresser.
9 Igor Harris (Possible).
10 Roy.
11 John Eldrige.
12 Adam Grithis (Possible).
13
14
15 Martin Mynne.
16 Luke Balmer.
17 Simon Powell.
18 Felix Dickson.
19 Alex Moorse.
20 Ben Skinner.
21 Pierre Tallon-Queraud.
22 Nick Radford.
23 Richard McGonnigal.
24Tom Eldridge.
25 Candice O'Donnell.
26 Tom German.
27 James Parry.