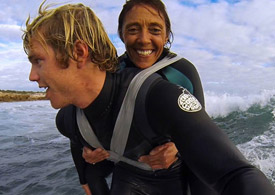 With the success of the Australia event, the Ocean Film Festival heads to the UK this month. Premiering in Cornwall this week the organisers will then take it the length of the UK over the next two months. They aim to bring the 'most amazing ocean films from both above and below the surface' and in the process support Project Aware, Surfers Against Sewage and the Marine Conservation Society.


It certainly opens with a bang. Immersion's full screen footage of a colossal Shipstern's is worth the entry alone. The phantom slow-mo captures every grotesques staircase and boil of the Tasmanian slab's as the Aussies tow themselves into one suicide attempt after another. Try not swearing out loud, it can't be done.
[pullquote]The comedy belies the hardship and danger the pair faced on their unsupported journey in 2011[/pullquote]
The highlight was definitely And then we swam by Ben Finney. With humour and pathos in equal measures it follows James Adair and Ben Stenning as they attempt to row from Western Australia to Mauritius. The comedy belies the hardship and danger the pair faced on their unsupported journey in 2011. The Grand Budapest Hotel aside, it's the best movie I've seen in ages and a perfect example of modern Britishness. After And then we swam I believe the new citizenship test should be simply one question – Without experience or any understanding of your own limitations, would you (and mate) row 56000km across the Indian Ocean unsupported? If you tick Yes then 'Welcome to the UK. Now, where do you stand on Hobknobs? Chocolate or plain?"

The first half of the festival is a triumph but the second not so much. The Irish entry, Riders to the Sea, is a weak joke poorly executed and with worse surf editing since Point Break. While the Italians decided that the gorgeous footage of feeding Whale Sharks and their relationship with Indonesian fisherman was best matched with a booming American voiceover with the subtle and grace of a Fox broadcast. The 15 minutes of the often nonsensical, but always overly dramatic dialogue will have you thanking your lucky stars that you were raised on the BBC. I was halfway out the door to pay my licence fee early by the time the credits rolled.
Thankfully the quality returns with Till the luck runs dry, a collaboration between singer-songwriter Ruarri Joseph and artist Tony Plant. Joseph's alt-rock blends nicely with the fluidity and transiency of Plant's beach eddies and swirls.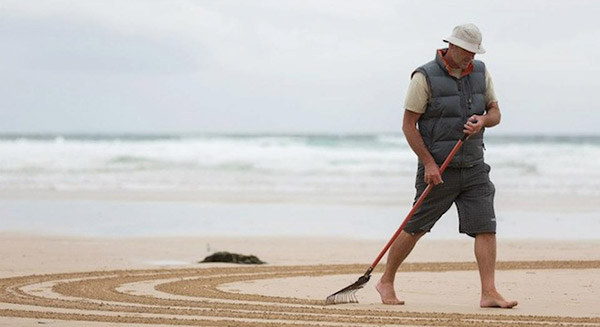 [pullquote]If you say you've seen anyone smile more or brighter than Pascale as they surf together, well, I don't believe you [/pullquote]
The event ends on a high with something that has done the rounds on social media but is nonetheless beautiful and rewarding. Duct Tape Surfing is the story of the partnership between paraplegic Pascale Honore and her son's friend Tyron Swam. Pascale is literally duct taped to Tyron who then paddles out and strokes into a few waves. If you say you've seen anyone smile more or brighter than Pascale as they surf together, well, I don't believe you. It's a touching and inspiring way to finish a damn fine evening. You even get the chance to win some bamboo underpants. No, I don't understand either, but it's still a great event.

To view the Ocean Film Festival tour dates click here
To view the full film line-up click here